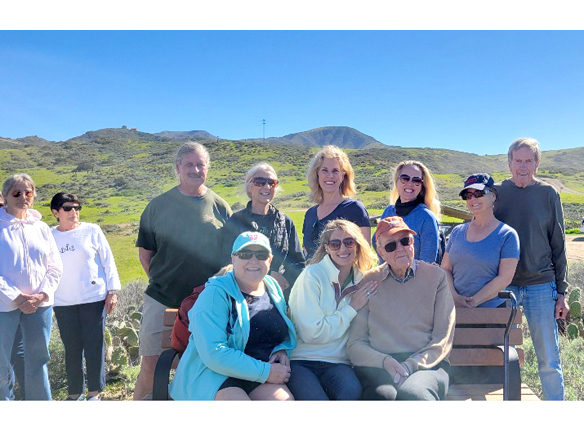 Whitey Mendenhall bench unveiled on a favorite island trail
Members of Avalon Rotary gathered last week to unveil a new bench named in honor of Whitey Mendenhall, a long-time resident and faithfull community volunteer. The bench is located at Little Harbor, inside the Catalina Island Conservancy area.
Whitey moved to Avalon in 1967 as the manager of Safeway which is now our Vons store. He soon met his future wife Audrey, and they are celebrating their 54th wedding anniversary on Dec. 1. After retiring from Safeway after 35 years, he took two part time jobs, one of which was the clerk at our local bank which at the time was the National Bank of Catalina. He has survived through three buyouts and an FDIC takeover, continuing to this day to be a monument for consistent, quality work that transcends politics, and still finds the time and energy to make sure that every customer gets a warm greeting, every child gets a smile and every dog gets a bone. He is an active member of Avalon Rotary Club, to which he has given his time and money in support of the community for the last 40 years. Every week at Rotary lunch he gives every single member and guest a handshake. The Catalina Island Conservancy has an award named "The Whitey Mendenhall Grow, Baby, Grow Award" named after him for his exceptional volunteerism and he has won that award twice since it's inception.
Love Catalina Island honored Whitey last July with the Wayne and Susie Griffin Award for Comunity Service. He has volunteered for 28 years for the Conservancy, driving volunteers to the native plant garden every Thursday morning. He has logged 4,500 hours, equivalent to 562 working days.