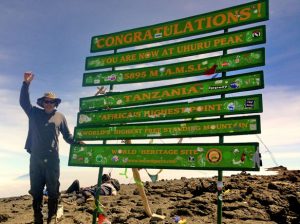 Rocky Rinehart passed away Dec. 27, 2017 after a short illness. He was born in Avalon at the old hospital on Sumner Avenue, on May 22, 1953.
He grew up in Avalon, and during his teen years lived at Empire Landing. When he wasn't driving his '53 Willys Jeep, or riding his dirt bike, he was hiking in the hills. He graduated from Avalon High School in 1971 and worked construction. He moved to the mainland in 1979, married his wife, Carla, and had two children, Erin and Brett. He worked construction as a Field Engineer with MCI, but in 1989 he found the career he loved as an engineer working on tugboats, and did that for 28 years with Foss Maritime.
He was able to travel to many places and loved the sea. When he wasn't working, he traveled to various places including Canada, China, and New Zealand. His last big trip was to Africa to climb Kilimanjaro with Erin and Brett for his 60th birthday and Erin's 30th birthday. His love was hiking. His kids have many memories of hikes in the interior and on the mainland. Because of Rocky, Brett and Erin love the outdoors and nature.
Avalon was always home to him and two years ago he was able to move back to the Island part-time. When he wasn't sweeping the deck or sitting back with friends for a few cold ones, many of you probably saw him walking the Hour Trail or Hermit's Gulch with Matty, the beloved family dog. He was a great husband, dad and son with many stories of growing up on the Island and a dry sense of humor that would make you think "hmm" at some of his stories. Rocky had strong values and a good heart that he passed on to both his children. We miss him but know he's with us in our hearts.
He is survived by his wife, Carla, daughter Erin from Avalon, son Brett from Seattle, his parents, Butch and Janice, and his brother, Ron, as well as nieces and nephews whom he all loved dearly.
Services will be held on in San Pedro at Green Hills Memorial Park, on Saturday, Jan. 27, at 11:30 a.m. A Celebration of Life will follow at Acapulco Restaurant in San Pedro.