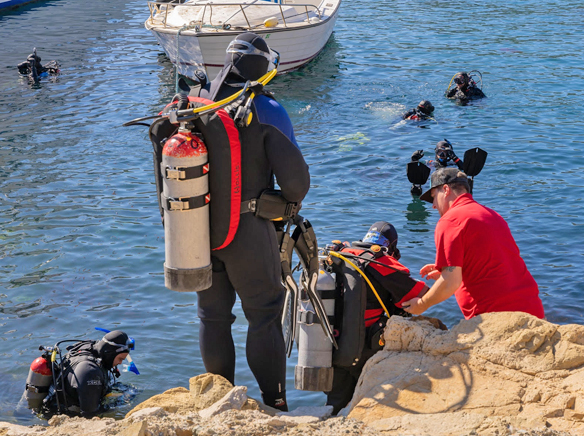 Hundreds of divers participate in clean up of Avalon Harbor
Despite a delay for severe weather, the 41st annual Avalon Harbor Underwater Cleanup continued the long-standing event's tradition of removing more than a ton of debris from Avalon Bay.
This was the first year for Catalina Divers Supply to organize the popular event; the dive center took over operations from the University of Southern California's Wrigley Institute for Environmental Studies. "Even though we had to reschedule the event we were thrilled with the participation, both from divers and sponsors," said Christy Lins, owner of Catalina Divers Supply. "We're very grateful for everyone who stepped up and helped us make this cleanup such a success."
The 2023 Avalon Harbor Underwater Cleanup attracted nearly 500 registered divers, along with 70 non-diving participants and more than 60 volunteers. About one ton of trash was removed from the harbor thanks to their efforts. Each year the Underwater Cleanup also raises funds for various charities and this year was no exception – both the Avalon Rotary Foundation and the USC Hyperbaric Chamber received more than $10,000.
A highlight of the day's events for many divers is the awards ceremony after the cleanup is complete, when divers receive awards for the most interesting items collected from the bay. This year's highlights included a toy train, a fire extinguisher, a pirate hat, a cell phone and a clutch purse complete with a dry $10 bill. Additional honorees at the awards ceremony included Christy Lins, given the Golden Flipper Award for her efforts organizing the cleanup, and Mark Guccione, who received the Jon Hardy Award for his efforts promoting the Casino Point Underwater Park. Raffle prizes worth more than $10,000 were also awarded at the ceremony.
Next year's event, scheduled for Feb. 24, is already starting to shape up, with Catalina Divers Supply expected to continue its role as event organizer. "We're exploring several new developments for next year," Lins said. "We've learned a lot and are excited by how many people, businesses and organizations are eager to come together to preserve and protect our ocean world."
For more information about the Avalon Harbor Underwater Cleanup, visit www.AvalonHarborCleanup.org.