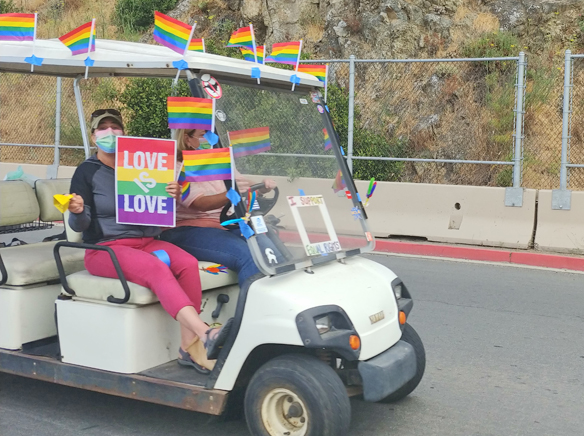 Small group shows local support for Pride Month
Organizers of a Pride parade soldiered on with their plans, despite COVID-19 and other outside forces that limited their show of support.
One of the organizers, Constance Garcia, said some participants decided to stay home in the midst of the coronavirus pandemic and others were confused with the timing of the announced cancellation of the Fourth of July parade, which created the idea that the Pride parade was also cancelled.
Despite the setback, the parade went on with a small but dedicated group. Andrea Olsen Diaz had secured the permits and coordinated with the Sheriff's Department. Garcia said that when Capt. John Hocking brought a vehicle to escort the parade, he called in two more to add to the decorated cars.
"We were very appreciative of their support and kindness. They made sure we had a larger parade and were safe, despite the low numbers," Garcia said.
Laura Vandezande handed out masks to anyone who did not have one and all the participants stayed in their vehicles with music and a bubble machine to show local support for Pride Month.