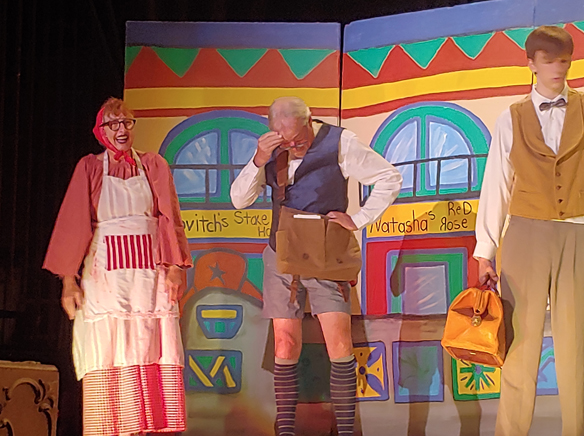 Actors are returning to the stage in Avalon. Live theater is currently lighting up the Famous Casino. Local players are returning to their passion. It may, or may not, actually be career (yet?), but members of the Avalon Players are putting their hearts and souls in the production of "Fools," which opened last night and runs through Sunday.
Whether new, or seasoned performers, director Sean Brannock has assembled a dedicated group of Thespians to bring the players back to life. As island residents, the players are likely known, and loved, by many on the island. Mary Schickling earned a bachelors in theater and worked as a stand-up comic and actress for 25 years before re-locating to Catalina in 1994.
Like a duck to water, she found Brannock and joined his circle of performers to put on productions. A beautiful "artsy" friendship was born, she said. She's performed in several productions over the years and said she has enjoyed them all. She expects this show to be the same.
"It's my pleasure and my joy to be a member of the cast in this wacky production," Schickling said.
In contrast to Schickling, Andrew Quintana is a relative newcomer. His first theater experience was here on the island with the Avalon players, when he was cast in the 2019 production of "Joseph and the Amazing Technicolor Dreamcoat." Visitors might find Andrew taking them on a tour in his work as a tour driver for the Catalina Island Company, but they can witness new calling on stage in "Fools."
"Working with Avalon community Theater Players has been a fantastic experience," Quintana said.
Two members of the cast spend their work hours in education, Rich "Mr. Z" Zanelli, who is the former Director of Education for the Catalina Island Conservancy. He loves working in education, but he has a passion for theater. He's lived on Catalina for 18 years and has performed in more than 30 productions in his lifetime.
"I enjoy performing because I like to create over-the-top characters that border on the outrageous," Zanelli said.
Erica Minuto has been a teacher at Avalon School for 25 years. She has done four productions with the Avalon players since 2018. But her first experience came in the '80s, when she performed in two Avalon School productions, "Peter Pan" and "The Wizard of Oz." Playing the Wicked Witch of the West is still one of her favorite parts. She loved being the villain, she said.
Minuto said she enjoys taking on characters that are odd, or different. She is hopeful that live stage plays become a staple among the Catalina Island entertainment scene and that she'll have more opportunities to perform.
"Being on stage makes me come alive," Minuto said. "I absolutely love it and I hope that this comes across in my performances."
Avalon High student Eryn Cassidy, 17, joins the cast, but has been performing in theater productions since the age of 7. She started in Brannock's Kids and Play group and moved into the high school productions and now tackles her second part with the community players group.
"I'm so excited to have this opportunity," Cassidy said.
Like Cassidy, Michael Bergstedt began acting in the Kids at Play productions at the age of seven, following in the footsteps of his older brother. He's been acting in Brannock's productions ever since. Tim McDowell, has lived on the island for 20 years and works in maintenance/facilities for the Catalina Island Conservancy. This will be his first performance with the players.
Relative newcomer to the island is Anna Gold. Gold lived in Two Harbors a couple of years ago, but left for about 8 months to Montana. She's back, and while she hasn't done a lot of stage work, she has been performing in other mediums.
After growing up in Illinois farm country, she moved to Chicago, where she studied and performed with Improv groups. She moved to Los Angeles to pursue acting and has landed a few TV spot, including a voice acting spot in the series, "Family Guy" and some Spanish language shows. This will be her first full-length stage play, but she said she is learning a lot about stage productions and likes the way the cast is coming together.
"I like the timing and the pacing of it," she said. "I think the director is really good at improving pace and the way it's written is really funny too."
Constance Rux has made a return to the theater, in a way, a performing with her chuch group as a youth. She was part of skit productions at retirement homes and special events. As a teen she was part of competitive theater program, called "Destination Imagination." She continued involvement in high school and college, before moving into other work. This will be her second performance with the Avalon Players and there is a sense of returning home.
"I am thankful and blessed to be part of this amazing group of people, and to have theater in my life again," Rux said.
One face that is likely to be very familiar will be that of Avalon Library Manager Paul Birchall. But this is nothing new to him, as he spent plenty of time on stages in his early days. Notably, he performed in a Chicago premier production of Michael Frayn's "Noises Off" which ran for 300 performances and won a local Tony Award for best production and ensemble. Birchall said that while he loves his job serving the community as the library manager, he is delighted to be back on the stage after about 25 years.
Fools has performances at 7 p.m. tonight and Saturday, with a 4:30 p.m. show on Sunday.