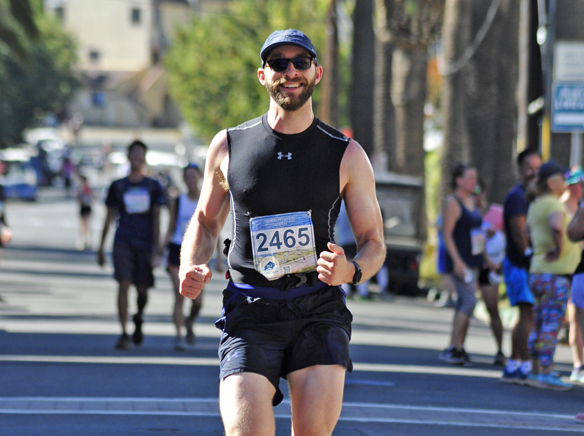 History buff finds new passions on Catalina Island
Compared to many island residents, Stephen Weber might be considered a newbie. He's only been connected to the island since his first visit in 2012. But that visit reshaped his life. He looks back and remembers that when he arrived, he instantly fell in love with the island.
Weber is originally from a small town in Minnesota, so small town communities are already comfortable for him. But he also has a passion for nature and history, which he also said he has found in abundance on the island.
He earned a degree in history and volunteers at the museum to continue learning more about Catalina. He found seasonal work on the island and after college, he decided to move to Catalina full time. Now he feels like he's settled and has found his new home.
"What I thought would be a year or two on the island kept growing to the point where I have no intention of leaving," Weber said.
About a year ago, he opened a business in which he sells hand-crafted jewelry made from woven wire and natural stones or crystals. But, like his decision to move to Catalina, it came about almost on a whim. As a history buff, Weber likes to participate in medieval sparring games with others as part of a group.
Since there aren't a lot of stores that carry medieval battle wear, Weber had to make his own. He constructed a suit of lamellar armor. When he was planning to attend a Renaissance Faire, he made a metal woven Viking necklace to go with his armor. He found a flair for constructing art and jewelry, mostly out of woven metal and when he began adding stones and making more pieces for friends the idea of making a business out of it blossomed.
"By the time I had that finished I had a small arsenal of tools and supplies which I was using to make jewelry gifts for friends and family," Weber said.
After honing his craft for more than a year, The Smith of Avalon was born. The name combines his love of his home and his feeling that if he had lived in medieval times, he would have likely been a blacksmith or crafter of metals of some kind.
"Since the name ties both my love of history and the Arthurian history which gave our town its name, I thought it was perfect," Weber said.
He's launched a website, thesmithofavalon.com and has an online Etsy store. He also noted that when he can expand his equipment, he wants to start working with gold and silver. Weber said he never intended, or expected to end up making wire-woven jewelry as a career, but he is loving it and hoping he can continue to grow his business. One of the things he most enjoys is getting custom orders because it allows him to get creative to try and bring to life someone else's vision. When he can bring that person's dream to reality, is one of the most exciting aspects of his work, he said.
"The challenge of always trying new things, learning, and growing is core to who I am and something I will never give up," Weber said.
That excitement to try new things also led to Weber jumping into something new several years ago. In 2016, during his first winter on the island, just a week or so before the Catalina Island Marathon, Weber decided to sign up to run. Other than a triathlon in high school, he had no real experience or training for distance running, he hoped his youth (then in his early 20s) would be enough to get him to the finish line.
"Other than being good and sore afterwards, I made it through the course in good time given my lack of training and experience," Weber said.
But as with other things in his life, Webber loved the challenge and decided to stick with it. He's run every Catalina Island Marathon since. Last year in the 2021 marathon, he was 15th overall, with a time of 4:03:05. He was first in his division and the top finisher among Avalon residents.
He's done some of the other events on the island, but the marathon is the one he consistently competes in. He's preparing for this year's in March and it will be his seventh consecutive island marathon.
"Training on the island hills helps me be prepared for the race, but certainly takes a toll on the joints if I train too hard some years," Weber said.
The Catalina Island Marathon is scheduled for March 12 this year. Look for Stephen on the course or crossing the finish line.
Or you can find more about him at thesmithofavalon.com or on Instagram at @thesmithofavalon or on Etsy under thesmithofavalon.