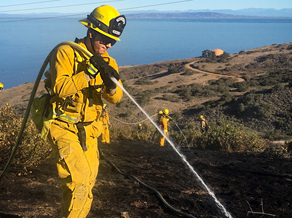 Bird on a wire was apparent cause of December 20 blaze
A fire reported in the Two Harbors area early Sunday morning, Dec. 20, burned an estimated one to one-and-a-half acres, according to Capt. John Hocking, commander of the Avalon Sheriff's Station. The call reporting the fire came in at about 6:48 a.m. Except for the hot spots, the fire was basically extinguished by 8:44 a.m.
No human beings were injured. No structures were damaged.
A bird lost its life. According to Hocking, the deceased bird could still be seen on the wire as firefighters were working on the remaining hot spots.
As Hocking spoke with the press, firefighters were clearing the brush to deny fuel to a potential fire.
Hocking said the Sheriff's Station, Search and Rescue, the Avalon and Los Angeles County fire departments responded.
"The fire departments, all of them, did an outstanding job of preventing the fire from getting up the hill — which would have made it a lot worse," Hocking said.