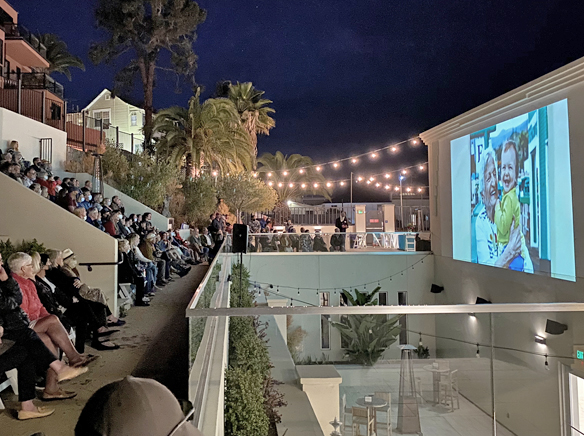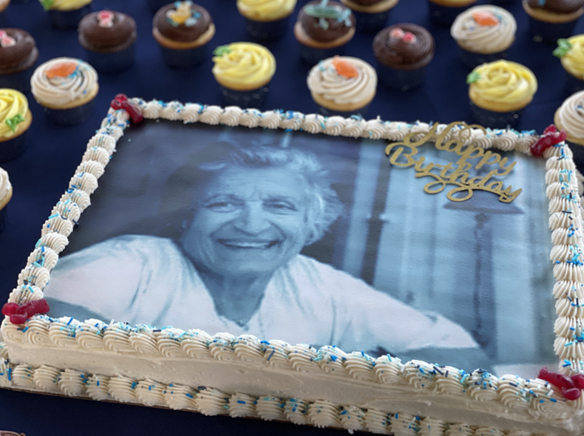 Last weekend, the Catalina Island Museum debuted the fourth film in its Catalina Story Project series. The film, simply entitled "Rosie," featured beloved Island resident Rosie Cadman. Appropriately sandwiched between her 96th birthday and Mother's Day, the celebration honored her amazing life in Avalon and her current role as the island's favorite grandmother.
The Islander profiled Rosie in 2018. For that story, visit the link below.
The evening at the museum began with appetizers generously provided by The Lobster Trap while members of the Avalon Lions Club helped out behind the bar. The film's premiere took place in the museum's Ackerman Family Amphitheater with Cadman in the front row surrounded by her family and friends.
By all accounts the film was sweet and heartfelt – just like Cadman herself. It touched on her love of her family with comments and stories from her grandchildren. She spoke about her time running the fish market at the end of the pier, the weighing of over 5,000 marlin and much more! Her love of the island and everyone in this community is genuine and evident throughout. It was clear she was pleasantly overwhelmed with joy.
Immediately following the film's premiere, Cadman's grandchildren led the crowd in singing happy birthday to her and everyone enjoyed cake and cupcakes.
Catalina Story Project films are created to document life on Catalina Island through the eyes of its longtime residents. During the event, the museum announced that the next to be showcased would be Jani Eisenhut. Her story spans from her younger days growing up in the Casino, to driving tour buses through the interior, playing the chimes and more.
According to the museum, they need to raise $8,000 to produce the film and are seeking donations to do so. If you wish to support the latest Catalina Story Project visit CatalinaMuseum.org/donate and select Catalina Story Project in the drop down menu to be sure the funds are counted toward this initiative.
The museum is open and welcoming visitors Wednesday – Sunday from 10 a.m. – 5 p.m. at reduced capacity with enhanced health and safety precautions to ensure the safety of all.
For more information, visit catalinamuseum.org. To stay connected and enjoy the museum's virtual programming during this time, follow the museum's social media platforms @CatalinaMuseum on Facebook, Instagram, and Twitter.
The Catalina Island Museum offers the best in art and history exhibitions, music and dance performances, lectures by guest speakers from all over the world, and the finest in silent, documentary and international film. The museum's Ada Blanche Wrigley Schreiner Building is located in the heart of Avalon at 217 Metropole Avenue. For more information, call phone at 310-510-2414 or visit CatalinaMuseum.org.