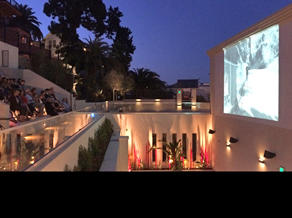 Avalon's beautiful summer nights are the ideal setting to take in a classic film at the Catalina Island Museum during Movies at the Museum. This summer program was designed to offer families and people of all ages an option to enjoy the museum after hours. Catalina Island and magic are the main themes explored in this year's program.
The evening also offers late night access to the museum's special exhibitions "JAWS: The Art of Fear in Filmmaking" and "Houdini: Terror on the Magic Isle."
The film screenings take place in the museum's Ackerman Family Amphitheater situated directly behind its second level and surrounded by a sculpture garden. Its design was inspired by Avalon's original amphitheater built in 1904 where afternoon and evening concerts were held regularly through the 1930s. Since that time, Avalon lacked a large outdoor venue with a proper seating area until the museum's new space opened in 2016.
Upcoming Movies at the Museum include:
Wednesday, June 20: "Catalina Caper" (1967)
The first selection in the series is Catalina Caper, filmed on Catalina Island in 1967. This comedy musical mystery film is about an ancient Chinese scroll that is stolen from a Los Angeles museum and taken to Catalina Island. The thieves plan to use it to swindle a Greek art collector – showing him the real one and then delivering a fake – until a group of teens set out to foil their plans. A highlight of the film is an onscreen performance of "Scuba Party" by Little Richard. This film is unrated.
Thursday, July 5: "The Geisha Boy" (1958)
Comedian Jerry Lewis stars as Gilbert "The Great" Wooley in The Geisha Boy. Lewis plays a down on his luck magician who is sent with his pet and co-star, Harry the Rabbit, overseas to entertain American troops. During his time in Japan, he brings joy to an orphan boy and they become friends. This film is rated G.
Wednesday, July 18: "Death Defying Acts" (2007)
Guy Pearce stars as Harry Houdini who is on a tour of Britain in 1926. He enters into a passionate affair with a Scottish psychic, played by Catherine Zeta-Jones. The psychic and her daughter attempt to con Houdini during a highly publicized séance to contact his mother whose death has haunted him for many years. This film is rated PG.
Wednesday, Aug. 1: "The Wizard of Oz" (1939)
Called one of the greatest films in cinema history, The Wizard of Oz is a Technicolor musical fantasy. Judy Garland stars as an orphaned girl living on a Kansas farm. She and her dog, Toto, are swept away by a tornado to the magical land of Oz on the other end of the rainbow. There she embarks on a quest to see the Wizard who can help her return home, picking up some friends along the way.
The Wizard of Oz also has a connection to Catalina Island. The creepy sounds Garland's character hears in the "Haunted Forest" were actually recordings of birds housed in Avalon's Bird Park. The sound crew then played them back at varied speeds and even backwards! This film is rated G.
Wednesday, Aug. 15: "JAWS" (1975)
A giant great white shark terrorizes the shores of a New England beach town at the height of its summer season. The local sheriff, Roy Scheider, teams up with a marine biologist, Richard Dreyfuss, and a gritty old fisherman, Robert Shaw, to hunt down the monster. Released in 1975, JAWS is considered one of the greatest films ever made. It is rated PG.
This screening coincides with the museum's special exhibition, "JAWS: The Art of Fear in Filmmaking," on view through Sept. 16, 2018.
On these dates the museum will re-open at 7 p.m. and the film will begin at dusk (around 8 p.m.) in the outdoor amphitheater. A variety of movie snacks will be available for purchase.
Attendees are encouraged to bring their own beverages (alcoholic and non-alcoholic) and/or snacks. Please do not bring glass bottles or glasses.
Tickets to Movies at the Museum are $5 for museum members, $17 for adults and $15 for seniors, military and students with a valid I.D. Children (age 15 and under) receive free admission with a paid adult. Admission may be purchased online at CatalinaMuseum.org, in person at the museum's visitor services desk, or upon arrival at the door.
The Catalina Island Museum offers the best in art and history exhibitions, music and dance performances, lectures by guest speakers from all over the world, and the finest in silent, documentary and international film. Open seven days a week from 10 a.m. to 5 p.m., except New Year's Day, Independence Day, Thanksgiving Day and Christmas Day.
The new Ada Blanche Wrigley Schreiner Building is located in the heart of Avalon at 217 Metropole Avenue. For more information, call at 310-510-2414 or visit CatalinaMuseum.org.