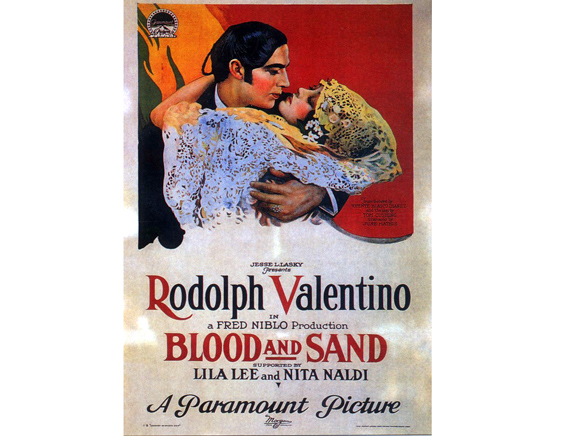 33rd silent film benefit is expanding
One of the world's longest running annual celebrations of Silent Film, the Catalina Island Museum's 33rd Silent Film Benefit is expanding. Introducing the Avalon Silent Film Showcase, a weekend celebration taking place Friday, May 15 through Sunday, May 17, 2020, featuring a broader and more sensational program than in any year past.
Friday, May 15: The Showcase will open at the museum on Friday evening for a screening of Mud and Sand with live musical accompaniment by composer and pianist Michael Mortilla in the museum's outdoor amphitheater. Mud and Sand is Stan Laurel's comedic spoof on Blood and Sand, the feature film to be played at the Casino the following day. Laurel's character, Rubarb Vaselino, is sure to garner a number of laughs. Food, drinks and additional programming will round out the evening.
Saturday, May 16: The main event of the weekend is held in the historic Avalon Casino Theatre, William Wrigley Jr.'s 1929 Art Deco Movie Palace. Attendees will be treated to an authentic 1920s cinematic experience with the screening of the 1922 film, Blood and Sand starring Rudolph Valentino, Lila Lee and Nita Naldi. The screening features live music composed specifically for this event performed by Michael Mortilla and The Accompanists.
In the film, Rudolph Valentino plays the role of Juan, the son of a poor widow in Seville, Spain. Against his mother's wishes Juan pursues a career as a matador. He rapidly gains national prominence and takes his childhood sweetheart Carmen (played by Lee) as his bride. He meets the Marquis' daughter Dona Sol (played by Naldi) and finds himself in love with two women, which threatens the stability of his family and his position in society.
Sunday, May 17: Enjoy "Sunday Shorts" in the museum's digital theater. A variety of short silent films will play throughout the day. This lineup will include a few shorts filmed on Catalina Island along with a mix of dramatic and comedic storylines.
Early ticket purchases are highly encouraged to guarantee seats at this year's event.
In addition to the feature film screening of Blood and Sand on Saturday, May 16, Patrons Society members will enjoy a Thank You Brunch on the mezzanine level of the historic Casino building. All museum members are invited to the Member Pre-Film Performance in the Avalon Casino Theatre from noon to 12:30 p.m. This will also allow members to choose their seats before the doors open to the general public. Specific details for both are still being determined. Announcements to come.
Purchase your tickets early. This event is expected to sell out. Tickets to the feature film on Saturday, May 16, 2020 are $25 for members of the museum, $28 for non-members and $10 for children ages 3-15. Purchasing tickets is easy. Please call 310-510-2414, visit the museum in person, or go to the calendar page at CatalinaMuseum.org. Members and Non-Members: Purchase your tickets to Saturday's main event by May 1, 2020 and receive 20% off.
Please note: Seating is first-come, first served. Pricing for a full weekend pass to the Avalon Silent Film Showcase is currently being determined.
Related Weekend Event …
The Avalon Ball: Join in the fun and come in period 1920s dress to the Avalon Silent Film Showcase along with hundreds of others from the Art Deco Society of Los Angeles in the ultimate celebration of architecture, film, music and fashion of the era. Saturday evening attend the Avalon Ball, a fantastic journey into the past when Big Bands played for huge audiences which were broadcast to the nation in the Art Deco Casino Ballroom. This magical night features an evening of dancing to music from the 1920s and 30s performed by Dean Mora & the Avalon Ball Dance Orchestra. Immerse yourself in glorious Deco opulence gliding across the 10,000 square foot dance floor surrounded by romantic ocean views. Visit adsla.org for more information and to purchase tickets.
The Catalina Island Museum offers the best in art and history exhibitions, music and dance performances, lectures by guest speakers from all over the world, and the finest in silent, documentary and international film. Open seven days a week from 10 a.m. to 5 p.m., except New Year's Day, Independence Day, Thanksgiving Day and Christmas Day. The new Ada Blanche Wrigley Schreiner Building is located in the heart of Avalon at 217 Metropole Avenue. For more information, the museum may be reached by phone at 310-510-2414 or at its website: CatalinaMuseum.org.