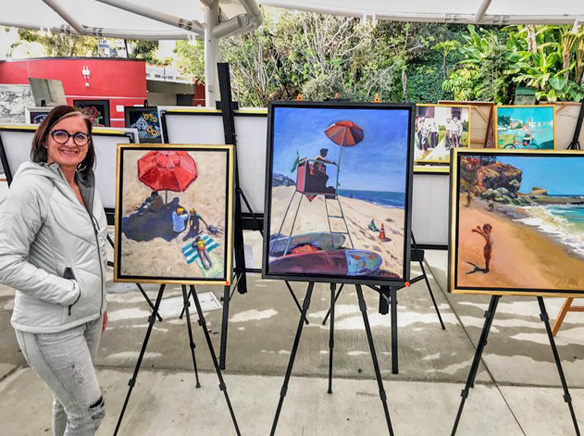 Visitors to Catalina and attendees of the Catalina Art Festival will see a painting of the Casino and Avalon Harbor that was chosen as the piece for the promotional posters for the return of the Catalina Art Festival.
While they may see the work, what they won't see is its impact on those who have gazed upon it, or those who will in the future.
The painting is the work of island resident Kymberlee Stanley and for her and her family, it holds a special place. The actual painting will be on display at the festival, but it won't be for sale.
Afterwards, it will be returned to the place to which it was donated.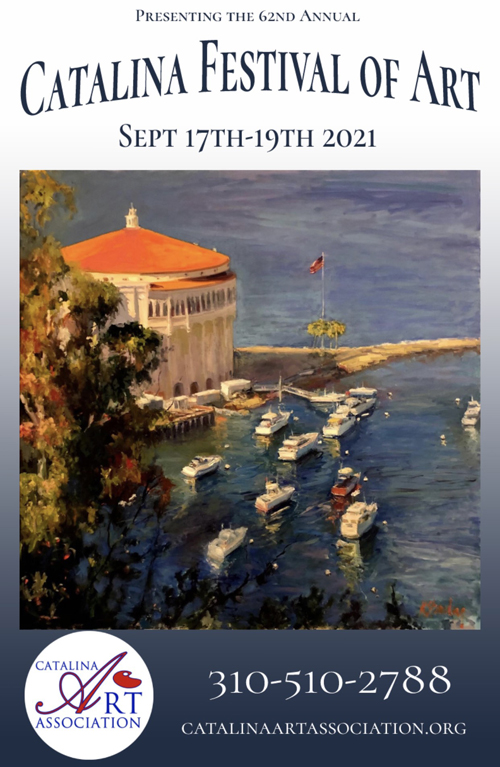 The painting will hang in a hospice facility on the mainland. It was the place where she kept it when her mother was there.
She brought it to her room so she could look upon the island that was such a big part of her family's lives. It was there until her mom passed away and Stanley donated the piece to the hospice for future residents to enjoy.
Stanley grew up in Costa Mesa and visited the island frequently with her family. Her great-uncle was Malcom Renton, a former general manager for the Catalina Island Company. His father was also a GM and right-hand man to William Wrigley. So, the island held a special connection for her family.
Her first exposure to art was an art class at a Costa Mesa hardware store when she was 18. She went on to Long Beach State University, where she earned a degree in Liberal Arts, with an emphasis on elementary education and an art credential.
She would go into teaching, then social work, and clinical psychotherapy, where she used expressive art therapy. She married Paul Stanley and they had a daughter named Evie. She continued working and raising a child. All along, art was the side road in her life.
When the family moved to Nashville, Tennessee in 2014 to be near Paul's family, the work and family road suddenly merged with that side road. Kymberlee set up a studio in the new house and suddenly she threw herself into her art.
"I took every class I could and realized I loved it," Kymberlee said.
She's painted as much as she can in the past eight years. One of her pieces in Nashville caught the eye of a curator and she was offered a solo show, but Kymberlee needed 15 new pieces within a year. She completed the paintings and nearly half sold at the show.
Kymberlee would later be invited to be part of a two-person show at the historic Parthenon Museum in Nashville in 2019.
At that show, Kymberlee displayed many of her California coast and Catalina paintings, as well as some depictions of Nashville.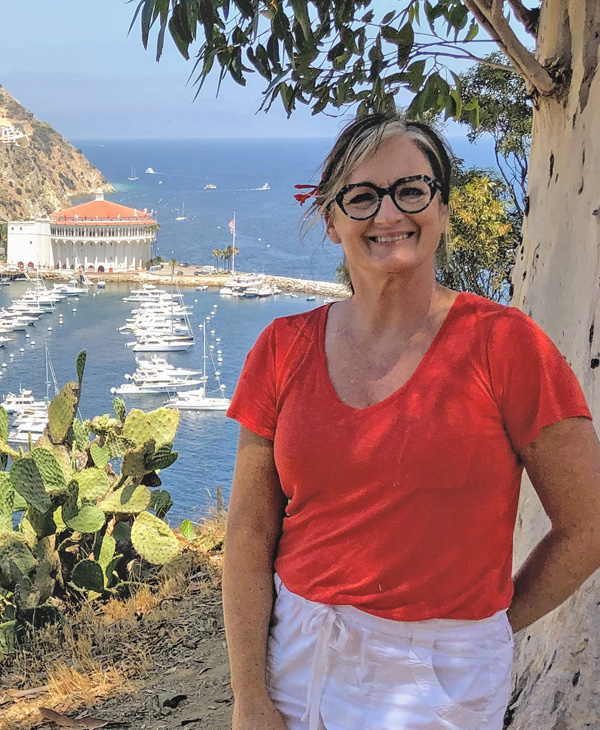 But the coast was calling Kymberlee back and when she was offered a job as director of Mental Health and Social Services at the Catalina Island Medical Center, she jumped at the chance to move back to the island she loved.
She moved to Catalina, ahead of Paul and Evie, to get set up, in November of 2019.
A few months later, the world shut down and soon her mom would be in hospice, as she found herself trying to help people during the pandemic and maintain her own sanity.
"So, it was pretty intense," Kymberlee said.
As therapy for herself, she worked on her art as much as possible. The painting of the Casino, that would be chosen for the Art Festival was done on a 30×30 canvas. In her preferred style, she used golden and orange undercoats. Layering in colors to bring out the right shades she is looking for to illustrate the local coastlines.
She developed her style based on those of some of the Plein Air artists of Laguna Beach in the early 20th Century.
She loves letting herself become absorbed in the process of creating the art.
"I like that sort of therapeutic part," Kymberlee.
Much of the reason she chose the Casino and harbor (from the vantage point of the overlook area) as the subject of the poster painting, was the connection of her family.
Uncle Malcolm was part of the team that built it. But it also offered a scene that shared the colors she loves and the scenery that leads her and that brought her back to art and to Catalina.
"I like to bring out the coastal colors of Orange County," Kymberlee said.
For more information on Kymberlee, visit her website, kymberleestanley.com or follow her on Instagram at @lagunatic5.
Ted Apodaca is the editor of the Catalina Islander. If you have a story idea you can contact him at editor@thecatalinaislander.com.