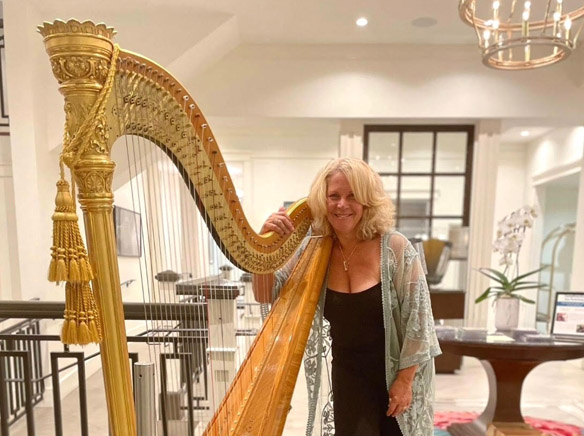 Harp in Atwater Hotel lobby comes alive
The golden harp in the lobby of the Atwater Hotel, which is normally a static display, came alive this past Saturday and Sunday afternoons with the talents of jazz harp player, Lori Andrews.
Lori, accompanied by her husband Bart on the guitar, treated weekend visitors and casual passersby to a two-hour musical session of jazz.
The newly renovated Hotel Atwater on Catalina Island was named for Helen Atwater Wrigley, daughter-in-law of William Wrigley Jr. In tune with the hotel's namesake, Helen's harp, a style 22 Gold Lyon & Healy, built in 1920, sits displayed in the lobby open for visitors to view the ornate, antique details up close. It was given to the Hotel by her granddaughter Helen Rosburg.
Lori and Bart are both professional musicians who play for assembled orchestras and special events. Being a harp player, a well-known jazz harp player, Lori was aware of the harp displayed in the Atwater Lobby. While anchored at Rippers Cove Lori met a local islander and asked him if he would introduce her to the harp's owner and line up playing the harp this past JazzTrax weekend. Her request was enthusiastically received.
The harp was owned by Helen Atwater Wrigley, Alison Wrigley Rusack's grandmother. The Atwater hotel was named after Helen Atwater, a most appropriate name considering its location.
What a treat for us this was.
Charlie Canby