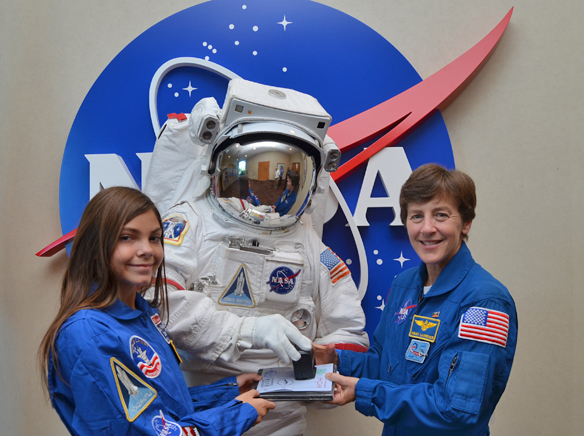 Alyssa Carson visit comes as NASA announces Mars Dune Alpha
Following two recent billionaire space jaunts and NASA announcing Mars Dune Alpha, (a program to teach humans how to live on Mars), space enthusiast Alyssa Carson visits Catalina Island next week to discuss space exploration and her life's goal to be the one of the first humans on Mars.
Carson, now 20, has trained since she was a child to become qualified for NASA's first mission to Mars.
Her visit to Catalina comes days after NASA announced the creation of a year-long training program at the Johnson Space Center whereby citizens, from ages 30-55, will be locked into small buildings that replicate life on Mars.
In preparation for the Mars mission, the NASA program participants will conduct numerous experiments in a "starchitect-designed habitat" designed to adapt to what life will be like on the red planet.
Although Carson is too young to apply for Mars Dune Alpha, she has spent most of her life training for the Mars mission. She is rapidly emerging as a leader of the so-called "Mars Generation," and is expected to speak about the future of space exploration and how she is encouraging more women to participate.
"I think that space is very hard to relate to for every person [because] we're not very connected to it. You can go your whole life never thinking about space or how it affects you," Carson has said.
Moreover, she promotes space advocacy for the public, believing that too many people think NASA and the space program is a closed loop of opportunity, so Carson travels to promote a greater understanding of space.
Carson discovered her interest in space as a very young child and became the first person to visit every NASA visitor center by the age of 13 with the goal of becoming part of the first American astronaut crew to set foot on the planet Mars.
She participated in her first NASA program at age 12 and is a frequent visitor to its program's facilities, while she is still too young to have any official role with the agency.
Astronaut hopefuls must have a master's degree before even applying for the NASA program, so Carson has already earned a bachelor's degree in astrobiology and is enrolled in the International Space University's master's program, which she hopes to complete by 2023.
"I definitely see a gap between what's actually happening in space and what the general public thinks is happening in space," Carson told the website Mashable.
In addition to focusing on the Mars Generation, Carson has also taken a special interest in bringing more women into the exploration of space at all levels.
As a young woman emerging into what has been a male-centered field, Carson is encouraging others like her to realize the expansive opportunities and career paths the space offers them. She wants to make it clear that space isn't just a childhood dream and is not just for men.
Carson has participated in almost every space training anywhere in the world and is now conducting research of her own. She's coordinating a group of six other women, ranging from a high school sophomore to scientists with years of experience, for an expedition dubbed the "Harmonia Research Expedition."
"Harmonia is the daughter of the mythical god of the sea, Poseidon," according to Carson.
A diving enthusiast, Carson recently became one of only 800 certified "aquanauts" in the country and she said she is excited about the opportunity to dive off the fabled Catalina coast.
While visiting the island next week, Carson is scheduled to dive with noted Avalon underwater historian veteran Jon Council. He is currently the president of the Historical Diving Society and runs the Avalon Diving Exhibit in the Casino.
During his career, Council has worked and trained with many NASA astronauts, including the recent tests operated by NASA in Project NEEMO (NASA Extreme Environments Mission Operation). Council said NASA hopes to train Mars astronauts using the varying geologic formations off the Catalina coast to deal with similar formations they believe astronauts will encounter on Mars.
Carson will dive off Catalina's coast on Wednesday.
On Thursday, she will be introduced at a music concert performed by the Bierman Brothers on the Wrigley Stage during the afternoon.
Carson is also expected to share her Catalina journey with her growing audience of nearly one million followers on various social media platforms.
In recent years, Carson has become a furious advocate for students, promoting enthusiasm for the STEM (Science, Technology, Engineering and Math) studies, and has toured Europe encouraging young people to get involved in space, the next American frontier.
"Mars is the new moon," says Carson, and just like the earlier space programs like Mercury, Gemini and Apollo, she believes the research benefits for mankind that emerge from the push to reach Mars will be exponential for society.
She is putting her career, and perhaps life itself, at risk, knowing a journey to Mars in 2033 might mean the end of life on earth. Nevertheless, for Carson, the "benefit for humanity is worth it."
Carson will speak Thursday evening at 8 p.m. at the rooftop Ackerman Family Amphitheater of the Catalina Island Museum. The event is free and open to the public.
To attend, RSVP Kellie Costello, events@catalinamuseum.org.