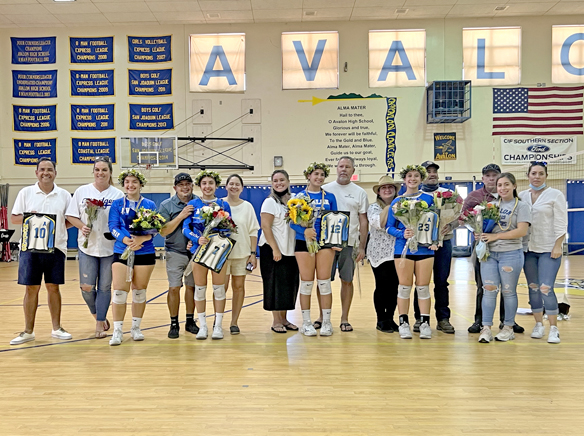 On Saturday Avalon High's girls volleyball team said goodbye to their five seniors, as they faced Estancia High School, ranked No. 7 in CIF-SS Division 7 rankings. The Lancers captured another win and their 15th win in a row.
They were led by:
• Virginia Soto had 33 assists with 9 aces
• Vanessa Rodriguez had 48 digs
• Daniella Moreno had 11 kills
• Lizette Cervantes had 10 kills
• Hannah Hoefs had 9 kills
• Kensley Flynn had 3 blocks and 5 kills.
"To my volleyball seniors, thank you for your integrity, dedication, hard work, and more importantly the support of one another on and off the field," said Coach Carlos Martinez.
"Your competitiveness and desire to achieve great things in your careers will continue to be driving forces for many years to come. If you only knew the way you have moved others to strive for greatness, the memories you have given to one another and to your families and friends. Take a moment to reflect on the hard work and the culture you have created at Avalon High School and be proud seniors, you deserve it. We salute you and will greatly miss you, but your legacy will live on forever. You are all amazing and we cannot wait to see what your futures hold. Thank you," said Martinez.
The Avalon High girls volleyball team opened the CIF-SS Division 9 playoffs with a home match against Newbury Park Adventist on Thursday, past our press deadline.