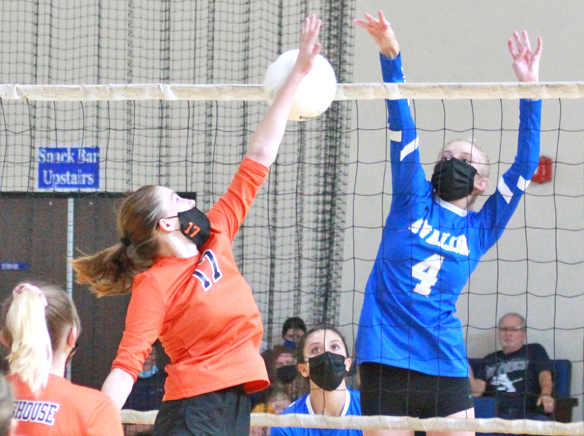 The Avalon High girls volleyball team has reached the CIF-SS Division 9 playoff semifinals after dispatching Cal Lutheran, 25-15, 25-11, 25-15 in a quarterfinal match on Wednesday at Avalon School. The Lancers will travel to Tarbut V Torah in Irvine on Monday for their semifinal match, scheduled for 1 p.m.
The Lancers advanced to the quarterfinals with a 25-13, 25-10, 25-20 win over Packinghouse Christian on Saturday in San Bernardino.
After winning the first two sets, Packinghouse battled in the third to try and extend the match. They kept it close until a 9-9 tie, when the Lancers began to pull away. Packinghouse missed on some hits and pass attempts and when Hannah Hoefs hit a kill off a block attempt, the Lancers led 14-9. The rally was kept alive on a dig save by libero Vanessa Rodriguez. The defensive save was indicative of the Lancers' consistent defense, which Head Coach Carlos Martinez has been the biggest key in their season.
"It always starts with our defense, for us to be the best possible we have to play big defense," Martinez said.
Later in the set, Emily Mello hit a kill shot off a dig attempt to push the Lancer lead to 16-10. Packinghouse was able to cut the lead to 16-12, but Hannah Hoefs hit a tap shot for a point and followed that with consecutive ace serves to give Avalon a 19-12 lead.
Packinghouse refused to go quietly and went on a 6-2 run of their own to climb within 21-19. But setter Virginia Soto directed a quick second hit to the back corner for a 22-19 lead. Kensley Flynn followed that with a one-time shot on an overpass to make it 23-19. One point later, Hoefs hit a kill to the middle and a misplayed pass by Packinghouse ended the match.
The Lancers have yet to drop a set in the playoffs, having swept their first three opponents. Soto also pointed to the defense as a major factor in the playoff run. Even against a team like Packing house, that had some height in the middle, the Lancer backrow responded.
"Our libero is really good, we're quick on our feet, so that's a plus to it … you could say we're scrappy, I guess," Soto said.
Martinez said the team has developed a chemistry that has them all on the same page. He said they are playing hard and as a team. Soto also talked about the team's focus playing together.
"Probably just self-discipline because all the girls are responsible on their own, but also we're close as a team already, so we just push each other and just keep each other in check, which is really good," Soto said.
Avalon has been able to limit mistakes and avoid letting them take away focus. It's part of the chemistry that has them one match from the CIF-SS championship match.
"We always do better when we work together and whenever we make a mistake, we just shake it off and then continue on and that's how we push as a team," Hoefs said.
Tarbut V Torah has also swept their first three opponents. They were co-champs out of the Express League, but have played fewer matches than the Lancers.