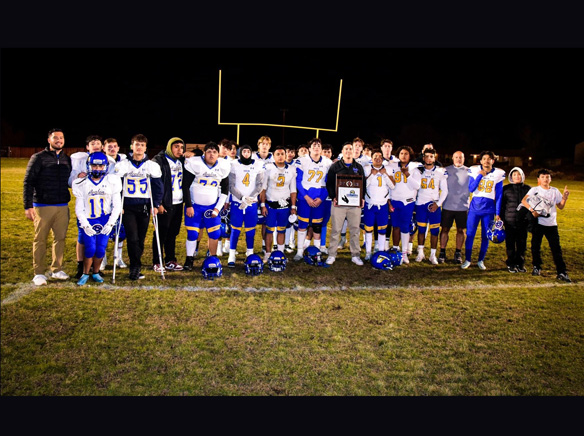 After a meteoric run through the playoffs last year, the Avalon High football team could be on a the verge of a continued run of success as they open their season on Saturday on the road. Last year the Lancers backed into the playoffs, but got hot at the right time and fought their way into the championship game before finally falling.
They brought home the CIF-SS Eight Man Football Runners Up plaque and are looking to make another run for a league title. They lost only one key player to graduation, and while he was a major force on last year's team, the Lancers still have a lot of veteran players ready to step into bigger roles.
"The kids have it right in their grasp," Head Coach Nick Morones said of the team's potential.
Another reason Morones is feeling confident is because he said the players are already showing focus and effort. He said that practices have gone well during training season.
Senior Weston Jones will lead the Lancers at the quarterback spot and Morones said he will be used to move the ball both on the ground and in the air. Jones has shown a toughness in his running when the play calls for him to run the ball.
"I think he's going to be an absolute demon running the ball," Morones said.
Senior Brandon Moreno also returns and gives the Lancers a seasoned veteran at the wide receiver position. Senior defensive lineman Jose Vasquez, at six-foot-three and 280 pounds, should be a force on defense, but will also be a target on offense as a tight end. Vasquez should see a lot of playing time as a key utility player.
Junior Isaac Rivas started at center last year and will move to the running back slot this year. Sophomore Nathan Jones saw significant playing time last year at defensive end and will also help out on offense as a fullback.
Senior David Talsky also returns at cornerback and along with sophomore Matt De La Rosa at linebacker, should be key contributors on defense. Morones said they team has scheduled a pretty tough schedule this year. Their home opener will be on August 31 at 4:30 p.m. against the California School for the Deaf in Riverside, which won the CIF-SS Division 1 Eight Man championship last year.
The Lancers open the season on Saturday, Aug. 26, at Valley Oaks Center for Enriched Studies in Sun Valley. The game is scheduled to kick off at 12:30 p.m.