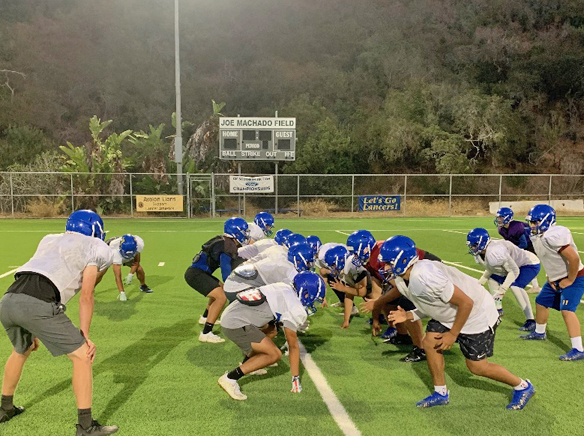 Unlike many high school football programs, the Avalon High team did not attempt to put together a shortened season in the spring, when many teams played up to five games in a makeshift 20-21 season. Nevertheless, the Lancers did not just take time off, they were hard at work.
Head Coach Nick Morones said one thing the team worked heavily on, was implementing a strict team weightlifting regimen. Players have been working every morning on strength training and Morones said it should pay off in the team's ability to overpower teams.
With a full year off, the team will be short on experience, but they are showing signs of plenty of talent. The Lancers are also fielding about 22 players this year, which bodes well for depth if enough of them can provide solid playing time.
"It'll be interesting, the guys have been working hard," Morones said.
The Lancers have some players who've had some playing experience with the program and Morones is looking for them to lead the team on and off the field. Juan Hernandez takes over the quarterback position and will play middle linebacker on defense. Chris Haro takes over at center and is looking like he will be the anchor for the offensive line. Esteban Chavolla will also be a big contributor on the O-line at the right guard position.
The Lancers will lean heavily on their run game to open up passing opportunities. This year's team has more size than in recent years and the Lancers want to use that to their advantage. Combined with their improved strength from the weight program, Morones expects them to be able to wear teams down.
"I think we're going to be a good running team," Morones said.
Gustavo Hernandez will help out on both sides of the line, providing edge rushing from the defensive end spot. Morones expects the linebackers to anchor the defense, but if team's try to throw on them, Brandon Moreno brings some experience to the secondary at the cornerback position.
Francisco "Panchito" Arellano will help the running game at fullback and then provides a strong presence at the outside linebacker. Newcomer Weston Jones looks like guy who will play a solid utility role on the team.
"We can put him anywhere on offense," Morones said.
Possibly most important, according to Morones, is that this year's team has become a tight-knit group who help each other. He also said they have been a very coachable group. The Lancers open the season today at 4 p.m. against Malibu High, at Machado Field. They will also be home next weekend with a game against Chadwick School in Palos Verdes at 1 p.m. at Machado Field.