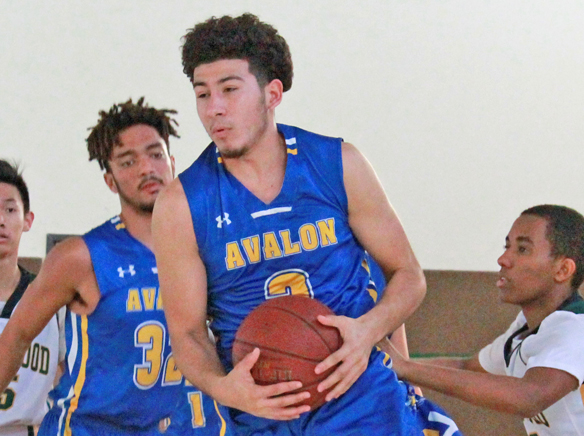 The Avalon Boys Varsity Basketball team has been on the winning side in seven consecutive games and hope to continue this trend right into the New Year.
The Lancers' most recent success came against their longtime rival Wildwood. In their first game against the Wolves on Friday evening, Dec. 14, Avalon came out on fire, jumping out to an 18- 4 lead by the end of the first quarter. The Lancers were functioning on all cylinders the entire quarter and displayed excellent team basketball.
Unfortunately, the Lancers were not able to sustain their high level of play and let the Wolves back into the game in the second half. The local fans from Avalon and the visiting fans from Wildwood put on a show of their own, raucously cheering for their team and trying to out yell each other. The Lancers fans had the final say in the end as their team emerged victorious by a score of 44-40. Leading the way for the Lancers were Senior guards Cristo Hernandez with 12 points and 12 rebounds and Sebastian Garcia, with nine points and eight rebounds.
In game two, Avalon played a more consistent game for four quarters and came away with a 48-40 victory. Sol Vines really stepped it up in this one, scoring 15 points and grabbing five rebounds, while Cristo Hernandez was on his game again, scoring 14 points and grabbing seven rebounds.
Allen Arneson was also a positive force in this game and super sophomores Jose Gomez and Adalberto Martinez continue to play like veteran ballers as well. The Lancers are now 7-2 and take their game on the road against longtime rival Holy Martyrs on Friday Dec. 21. They then travel to Carlsbad to play in a three-day Tournament at Tri City Christian High School. Our next home game is on Thursday, Jan. 10 against Tarbut V' Torah at 5 p.m. Come on up and support your local Lancer hoopsters in an important league game.