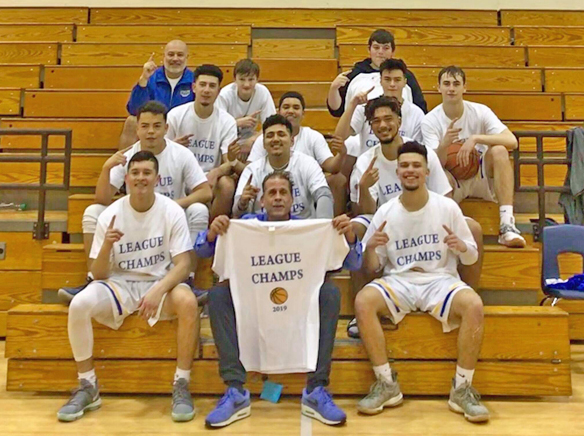 Avalon will open CIF playoffs with home game next week
It's been a long time coming but now it's here. The Avalon boys varsity basketball team successfully marched through their league schedule and finished with a perfect 11-0 record. After 35 years, the Lancer Hoopsters can finally hang up a banner alongside the other successful teams of the past. They defeated LaVerne Lutheran on Friday, Jan. 25, by a score of 78-20. Paving the way for the Lancers was junior Allen Arneson with 22 points, eight rebounds, and seven blocks. Point guard Jose Gomez caught fire and scored 14 points and dished out four assists. Cristo Hernandez added 10 points to the cause, while Sol Vines scored nine points and Tony Ramos added eight points off the bench.
In game two against the Trojans, Avalon once again proved to be a strong contender, winning 68-34, behind the outstanding performance of Arneson, who scored 13 points and snatched seven rebounds. Cristo Hernandez and Jesse Machado provided 12 points each, while Sol Vines had nine blocks and six rebounds. Jose Gomez proved to be the player of the game with an incredible 10 assists.
This win against Lutheran gave the Lancers a share of the league championship and one more win would give them the title on their own. On Wednesday, Jan. 30, the Lancers finally returned home to play Brethren Christian for that undisputed championship. After a long-fought battle, Avalon finally captured that exclusive title before a raucous crowd, which was the biggest of the season.
Cristo Hernandez and his band of ballers hung on for a 48-40 victory in their biggest game so far, with Hernandez sinking 18 points and ripping out 10 rebounds. Sol Vines, Adalberto Martinez, Allen Arneson, and Jose Gomez all provided enough firepower to get the job done. Sebastian Garcia, Jesse Machado, and Daniel Madriz came off of the bench to support the cause as well. It wasn't the best performance for the Lancer boys, but it was enough to bring home the title of undefeated League Champions.
Congratulations young men, and best of luck in the playoffs. Make sure to come support your own boys varsity basketball team on Friday, Feb. 8 in their first round of the CIF-SS 5A playoffs. Playoff brackets will be released on Sunday.
As a first-place team, the Lancers will get a first round home game. The Lancers were ranked No. 7 in the Jan. 28 CIF-SS poll in Division 5A.