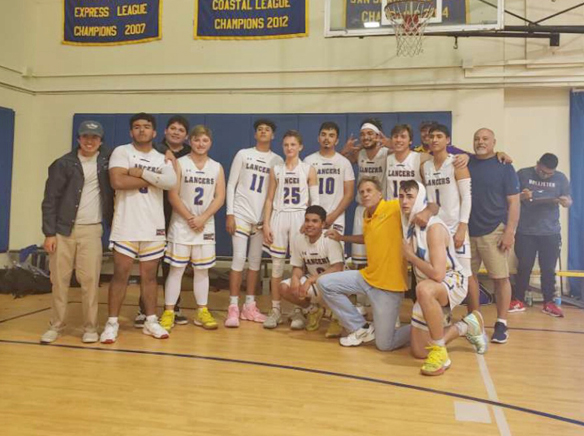 The Avalon Boys Basketball team earned its second consecutive league championship on Feb. 1, at home, against Brethren Christian, in a game for the ages. The Lancers set themselves up for a winner-take-all game against Brethren by winning the night before, 68-33, at home against St. Michaels.
In their game against St. Michaels the Lancers were led by Jesse Machado who caught fire from afar and scored 26 points on six 3-pointers and four 2-pointers. He was all over the court scoring, stealing and assisting. His supporting cast included Allen Arneson with 14 points, 8 rebounds and 2 blocks and Sol Vines with 12 points.
The following day the Lancers faced Brethren Christian at home. As Hickey Rohlik Fieldhouse began to fill up you could feel the intensity in the air. This was going to be a big game with the winner taking the league title.
The Lancers started slow, and the Warriors didn't. Avalon trailed 20-6 at the end of the first quarter and the crowd was rather anxious. The Lancers woke up in the second quarter and outscored Brethren 18-12 behind the outstanding play of Jesse Machado. Machado scored 10 points in the quarter. Brethren led 32-24 at halftime but you could tell the Lancers weren't finished yet.
Allen Arneson came alive in the third quarter scoring 8 points and bringing the Lancers even closer to the Warriors. Brethren led 42-38 at the end of three quarters of play and Hickey Rohlik Fieldhouse was electric with fan energy. The Lancers took charge right at the beginning of the fourth quarter and took over the lead for the first time in the game.
However, Brethren never quit and came back to take a 1-point lead with 20 seconds to go. That was when Allen Arneson drove to the basket and made a driving bank shot with 10 seconds remaining; final score Avalon 54, Brethren Christian 53. The Lancers celebrated their second consecutive League Championship at home.
Machado led the Lancers with 17 points and a crucial steal with five seconds remaining. Arneson was instrumental as well, scoring 16 points, grabbing 10 rebounds and blocking three shots.
The Lancers finished the regular season on Wednesday, Feb. 5 where our senior players were honored before the game against Samueli Academy. The Lancers played in the first round of the CIF playoffs on Wednesday, Feb. 12, at 5 p.m. at home.