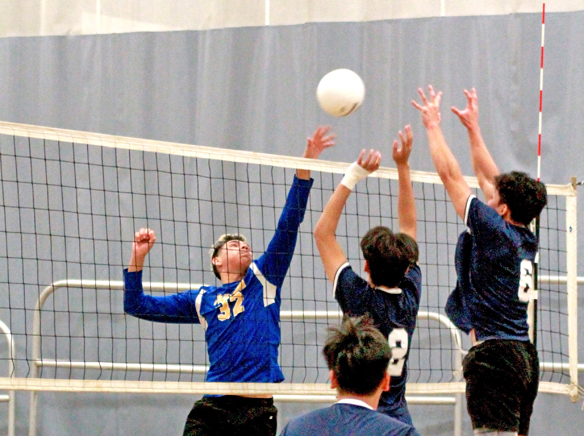 Several players take home league awards
By Ted Apodaca
Avalon High's boys volleyball team saw its season come to an end with a three-set loss to the No. 2 seeded Malibu Sharks on Wednesday at Avalon School. The Lancers had entered the playoffs as the second-place team from the Academy League and had advanced to the quarterfinals after Mayfair High had to forfeit due to a positive coronavirus test within the program.
Avalon Head Coach Carlos Martinez said the shortened season and training camps presented unique challenges for all teams. He said one of those challenges for Avalon was trying to figure out quickly, what worked best for the team and trying to adjust lineups to get the most out of the talents on the floor.
"This season has been an interesting one," Martinez said. "I'm just happy the students at Avalon Schools got the chance to play sports after such a rough year."
Mayfair was the first-place team out of the Suburban League with a 6-1 record. Avalon went 4-4 in the shortened season. The Lancers had traveled to Mayfair High in Lakewood on May 20 for their first-round match.
The third set was tied 4-4 when the match was halted. After a meeting with school officials from Mayfair it was ruled that due to the positive COVID test, Mayfair would have to forfeit. Avalon and Mayfair had played close in the first set before the Monsoons went on a late run to win 25-18. The second set was close at 14-12 in favor of the Monsoons. But a big run put the set out of reach and the Lancers fell 25-13.
Despite the loss in the playoffs, Martinez said it was exciting and a good experience for the team to compete in a quarterfinal playoff match. He said the team gave it their best effort throughout the playoffs and that they knew their game plan and executed it to the best of their abilities.
"At the end of the day, if we did that, then that's all that matters," Martinez said. "I'm so proud of this team."
The Lancers also brought home some individual accolades. Jimmy Felix was named the Player of the Year in league. Adalberto Martínez was named 1st team All-League for the third time in his high school career. Gustavo Hernandez was also named 1st team. Juan Hernandez and Jesse Grange were named 2nd team and Leo Perico was honorable mention.