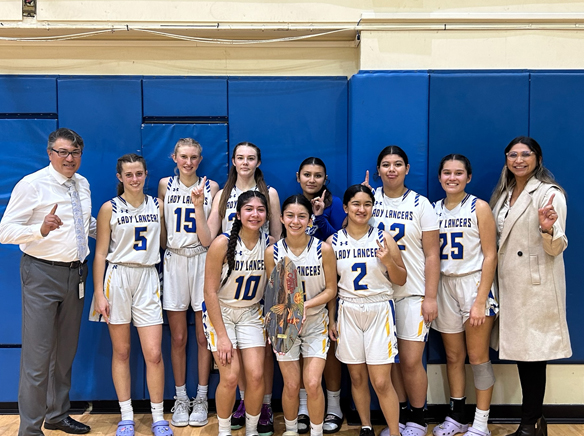 Avalon defense helps knock off top-ranked team in Division 4A
The Lancer girls basketball program hosted the Avalon Basketball Classic Dec. 28-30. The Classic is a three-day, four-game guaranteed small school holiday tournament. This year's opponents were Bishop Diego, Fillmore, Pacific Ridge, Pacifica Christian/Santa Monica, Vaughn and Avalon.
Avalon in the pool play faced and beat Pacific Ridge 44-26, Vaughn 44-41, and Pacifica Christian 39-36. Beating those teams gave Avalon a chance at playing in the championship game against Bishop Diego who won all their games by an average of 16 points. Bishop Diego was the heavily favored team due to their #1 ranking in the CIF-SS Division 4 polls. Avalon was unranked going in.
The Lady Lancers started off strong with a 20-14 lead at half. Although they were struggling to score, their defense denied Bishop of any advancement. Going into the 4th quarter Avalon took a 10 point lead. Avalon continued to struggle in the 4th but again the defense would be too much for Bishop and the Lady Lancers were able to maintain their lead and win 38-34.
Marissa Riley who averaged 10.5 points and 9.5 rebounds per game, was named to the All-Tournament team and Lizette Cervantes who averaged 9 pts., 6.5 reb., 3.5 assists, and 2.75 steals per game was named the MVP of the Tournament.
"This team is fun to watch and easy to coach. They really are a cohesive unit that cares for each other and plays like that.", Coach David Hart ," Head Coach David Hart said.
With that tournament win, the Lady Lancers move their record to 10-1. Which will likely get them recognized in the polls next week.
Avalon's next home game is Jan. 11, at the High School Gymnasium at 4 p.m. against Magnolia Science Academy.