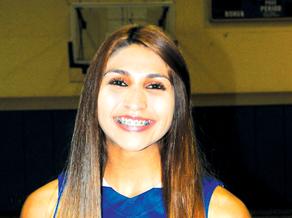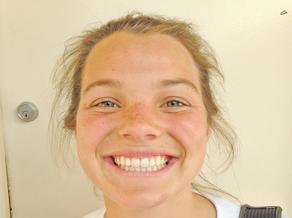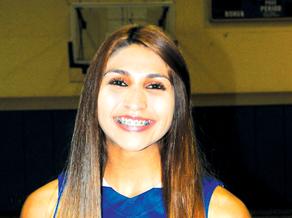 The Lady Lancers Basketball Program not only had a successful season in their eyes, but in the eyes of others as well.
Although the season is over, the awards keep coming.
Besides winning the Express League, the schools first league championship for girls basketball, they also took home all the honors.
Starting with freshman Madeline Hiniker who received second team all league, the first freshman to do that under Coach David Hart.
Sophmore Taryn Minuto earned first team all league honors.  Senior Joanna Chavoya was unanimously voted Player of the Year in the Express League, an honor held only once by an Avalon Lancer—10 years ago when Chelsea York won it in the Liberty League.
Coach Hart would also take Coach of the Year, his second time winning it in five years.
California Interscholastic Federation, the governing body for high school sports, awards players who are considered the best in their respected divisions.
Two of Avalon's players, Chavoya and Minuto both were named to the first team, All CIF Div 5A.
Last week the Long Beach Press Telegram announced their Annual All Long Beach Unified Dream Team.
This is an award the Press Telegram puts out to tell who they believe are the best players in all of Long Beach Unified School District.
These are teams like Long Beach Poly, Miliken, Wilson, and Lakewood and of the 100 schools that make the Long Beach Unified School Disrict.
Only one player from the history of the award has ever come from Avalon; York.
The Press Telegram announced three from Avalon.
Minuto made second team and Chavoya was declared first team, and to Coach Hart's surprise, he was named Coach of the Year.
"They say a coach is only as good as his players, and by the look of this year, my players have honored me in a way I could not be any prouder as a coach," said Hart. The one award Coach Hart said he is most proud of is out of over 500 schools in CIF Southern Section, the Lady Lancers Program ranked fifth overall in GPA with a 3.83.
"We have always made a goal to have every player with a 3.0 GPA.  This year we reached that goal and plus more," Hart said.
Joanna Chavoya will end her career here in Avalon as one of the most decorated players ever.
A three time first team all league.
A League Player of the Year Award. Press Telegram first team Dream Team.
Three time first team all CIF.
Played in the playoffs all four years, including a finals appearance her freshman year and a semi final appearance her senior year.  Now she will play in the Inland Empire All Star game this week.  And all she has left to do is choose the college she will play for.
Without the support of the parents, the school staff, our sponsors and all their fans within the Avalon Community the Lancers could never achieve these personal and team goals.
Excited to see what we do next year.  Go Lancers!