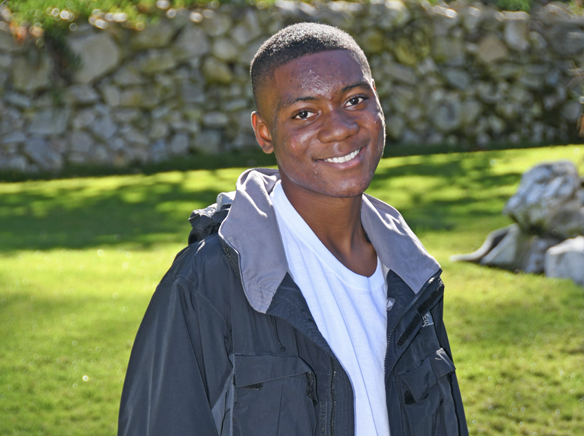 On a normal day in the middle of November, right when our season was ready to begin, I received a call from our counselor Mr. Quinteros at around 8 a.m. He told me that we had a transfer student in the main office who wanted to know if there was a chance he could still play on the basketball team. We had already conducted our tryout for the season, but fortunately there was still a spot available and when we found out that he was an honor roll student and a skilled player Kaiwann King instantly became part of our team.
Kaiwann comes to us from the projects of Watts. He grew up on the rough streets of LA where gang warfare was a nightly event. His story, no doubt, is one of struggle and strife. But more importantly his story is one of overcoming, succeeding, and inspiring. When Kaiwann was 9 years old he lost his left arm and leg in a terrible train accident.
His life was forever changed in an instant. At first Kaiwann had difficulty accepting the reality of losing two limbs. After time and with a lot of support and hard work, Kaiwann has not only survived, but in fact has thrived.
He is an Honor Roll student and college bound. He has already been accepted to five universities and will soon make his decision on where he will continue to study. His goal is to study kinesiology in college and work in a field that is related to physical and mental fitness. He wants to help those who struggle with mental and physical ailments. He wants to give back to the community, the very community which has supported him through his difficult times.
Basketball has always been the love of Kaiwann's life. His physical impairments have only driven him to become a better player. It is truly amazing what he can do with the basketball, both dribbling and shooting. He has a complete game and was a positive force on our varsity team this past season, scoring 15 points in one game and nine in another.
Kaiwann is an inspiration to all, especially to those who also struggle with physical and mental issues. We are a lucky town and school to have him for this brief time in our history. He is here to inspire us and to remind us how lucky we are to live on beautiful Santa Catalina Island.