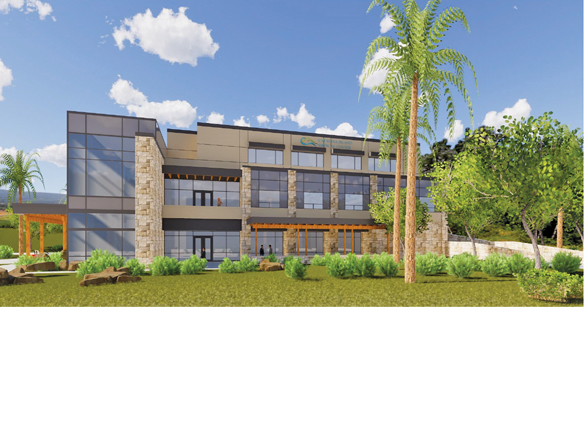 CIMC officials say 'no time to waste'
Buoyed by convincing community approval of a ballot measure to construct a new medical complex, the chief executive of the Catalina Island Medical Center says preliminary work will begin almost immediately on the project.
"We are very grateful to the voters of Catalina Island for their support," said Catalina Island Medical Center CEO Jason Paret.
On Nov. 3, more than 71% of voters said yes to ballot Measure H. The measure approved by voters will ultimately provide a transit fee for long-term funding to construct the proposed $60 million facility.
Paret, who is an expert in rural hospital development, was initially recruited to Catalina with a vision of making long-term upgrades to the island's aging medical infrastructure.
The first ballot effort in April of 2018 did reasonably well, but there were some elements of that proposal rejected by voters, and the measure failed.
Undaunted, Paret almost immediately thereafter embarked on a "listening tour" on the island. He said he "listened and learned" from key island stakeholders, government officials and others. Paret's outreach scored a major victory in 2019 when the Santa Catalina Island Company donated 2.5 acres of land for the facility.
The lack of a permanent location for the new facility was another reason provided by residents for rejecting the initial CIMC ballot proposal.
Now with a location, Paret and his team, working with city and other local officials, began to incorporate several other key provisions into Measure H that were not included in the first effort, including a sunset clause and a provision that provides "time for the economy to repair itself."
Paret said, given the pandemic's impact on the economy, Measure H does not go into effect for at least another 18 months to supply ample time for the economy to recover.
In addition, when collections do eventually begin, the transit tax will be phased in, starting at 50 cents and ramping up over time to $2. Measure H is applicable to all incoming modes of transportation, including ferries, cruise ships, helicopters, etc., according to Measure H.
Even though the transit fee won't be collected for at least 18 months, Paret nevertheless said "there's plenty of work to do in the meantime." Detailed planning and design of the new state-of-the art facility will begin immediately, said Paret.
"We're not going to sit around and wait," he added.
Now armed with community support, Paret said other opportunities will open up as well, including the prospect of donations from major donors.
The community's endorsement, he said, "gives us the ability to have conversations with private donors and build those relationships."
The hospital has been under pressure from government officials to have earthquake standards in place by 2030. Paret said he believes they will now be able to meet that deadline as the facility will be designed with the latest standards and technology and open in 8-10 years.
Moreover, CIMC officials are planning for a host of new high-tech medical services, including digital mammography, extended outpatient facilities, a community gym, infusion and chemotherapy capabilities, greater privacy for patients, both in-room and in the emergency room, a hyperbaric chamber and more.
He said the new complex will also include a new helipad as well.
Paret said design and planning will cost about $8 million. Initial funding will likely come from donors and other sources, he noted.
Regarding overall project financing, Paret said he has been in discussions with Rural Development officials at the U.S. Department of Agriculture. Conceptually, a $60 million long-term USDA loan to construct the facility will be repaid over time by the proceeds from the transit fee. Measure H provides a "sunset clause," which, in essence, means once the loan is repaid, the cross-channel collections will cease.
"This will be a very modern, state-of-the-art facility," said Paret.