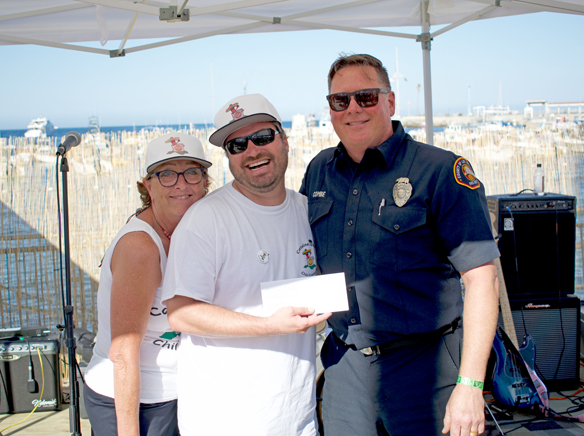 Things are about to get heated in Avalon. The battle is back. The simmer by the sea. The braising on the beach. On Saturday, one pot will rise above all. Actually, two possibly, since there is a judges winner and a people's choice winner. 
Technically, there are top three prizes for each category, but whatever, the important thing is that the Catalina Island Chili Cookoff is back. Despite the fact that two of last year's top three are not returning, there is a strong field of chefs bringing skills to the table.
Fire Station 55 is back after taking second in both the people's choice voting and the judges voting. Naughty Fox is also returning with its Naughty Ahi Chili. They will be trying to hold off a slew of chefs who are looking to get off the back burner and on to the main stage. There are even a couple of over town entries making the trip over to try and boil things over a bit.
But the main ingredient in this food fight is fun and fundraising for the Avalon Rotary endeavors, including scholarships and medical travel for Avalon residents. And they will be honoring the memory two members who passed in the past year.
"This year we are honoring Buddy Wilson and Pete Edwards for all their support they gave to the Avalon Rotary Club and the Chili Cook-Off," Nicole Hohenstein said.
In honor of Wilson, will be a chili labeled "5 Birds, 3 Stones Elk Chili." In honor of Edwards, Fineline Construction is bringing a chili called "Cumin Down the Hatch," which is being cooked by 31-year Fineline employee, Adrian Thoricht, with assistance from Memo Hernandez. Thoricht said he entered two years ago and took second place. That year he made the chili with Lourdes Thoricht. This year's recipe is essentially the same, but he will change things up on spices and other ingredients, which could include things like Mexican chocolate, if the chili calls for it.
One thing he does know is that it will include three cuts of meat, including some pork. But Thoricht said his chili will have no beans, which traditionalists will argue, is the true way to make chili. He's been experimenting and looking for something a little different this year.
After placing second two years ago, Fineline didn't place last year. Thoricht said he's pushing to get back on the winner's stage, which is being built by Fineline as a donation, in honor of his friend.
"It's in honor of Pete, so we're going to try harder," Thoricht said.
Last year, Fire Station 55 impressed both judge and attendee voters, taking second in both categories. Station 55 Resident Engineer, Bob Combe, is the chili artist behind the station's entry. Days before the event he was already smoking one of the three cuts of meat he was planning to use in this year's chili. He also cooks by taste and sight, rather than a strict recipe.
Although Station 55 is usually manned by only two firefighters at a time, they still cook their own meals, like larger stations. So Combe has developed some of his own cooking talents, including chili.
"I learned (cooking) on the job, that's one of the things we do here," Combe said.
Aside from the challenge of cooking a winnable chili, Combe said he enjoys being down in town for the event and mingling with the attendees and other chefs. Unfortunately for him, he needs to be over town on Saturday, so Captain Kevin Frye will be presenting the chili for the station. While another strong showing would be nice, Combe said that art is in knowing he made a tasty chili.
"it's good chili, I'm making it for me," Combe said.
The 5 Birds, 3 Stones Elk Chili is prepared by Eddie Morones, who is married to Wilson's daughter, Taylor. It is being made with elk meat from a New Mexico hunt by Morones. In his description, he explains that it comes from the mountains of the Mescalero Apache Tribe.
"Playing off my own taste buds, this recipe changes more than my underwear," Morones writes. "Sometimes it kisses, sometimes it bites."
Taylor said that Eddie and her father Buddy had become close friends over the years. At one point they bought a dune buggy to go racing around the deserts. Taylor said that Buddy would say, Taylor has the kids, but can't complain if dad is going on the trip and he and Eddie would take off on adventures.
"Many times those guys would leave me in the dust and go on vacation together," Taylor said.
Taylor calls Eddie a great cook and said he's always wanted to enter the chili cook-off. Honoring his late friend and father-in-law was the impetus for him to finally jump into the fray.
Last year the event raised $25,000 for service projects and scholarships, through attendance and sponsorships. Another good showing this year, could provide more help to Avalon seniors going off to college next year.
For more visit the Rotary on Facebook, facebook.com/avalonrotary