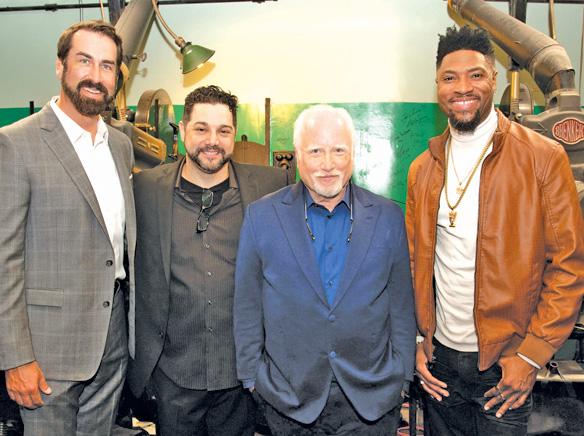 The 8th annual Catalina Film Festival wrapped with awards issued in 14 film categories—selected from 100 films in competition from 67 countries—screened at venues throughout the famed Catalina Island as well as new sister-city-by-the-sea, Long Beach.
The annual film festival also featured career tributes, as well as industry panels, workshops and Lion's Den pitch session as part of the festival's Film & New Media Summit.
Catalina rolled out its red carpet for a slew of major Hollywood heavyweights such as Ashanti, Richard Dreyfuss, London Brown and others as they toured the iconic Avalon Casino and were on hand for a number of key tribute and achievement awards presented by the Catalina Film Festival. Grammy Award winning singer Ashanti, now on Broadway, turned heads on the red carpet wearing a stunning, sheer, silk chiffon gown with high-vent front slips by fashion designer Michael Costello.
The festival wrapped up its first-ever Avalon/Long Beach split festival with a showing of the festival's top films in Long Beach on Sunday.
Here are a list of the tribute and film winners from the 2018 Catalina Film Festival. Career Tribute awards included:
Richard Dryfuss – Stanley Kramer Social Artist Award
Ashanti – Avalon Gem of the Ocean Award
Kevin Hart – Mack Sennett King of Comedy Award
Rob Riggle – Catalina Spotlight Award
Festival awards included:
Best of Fest – U.S Feature – Bullitt County
Best of Fest – International Feature Film – Love Possibly
Best of Fest – Documentary Film (Worldwide) – Love Always, Mom
Best of Fest – Conservation Film – Shadow of a Drought: Southern California's Looming Water Crisis
Best of Fest – Wes Craven Horror/Thriller – My First Time
Festival Treasure Award – Sam Did It
Best of Fest – Screenplay – The Hardest Hit
Best of Fest – International Short Film – Secret Sweets
Best of Fest – US Short Film – An Act of Terror
Best of Fest – High School Student Film – Love Letter
Best of Fest – Advanced Student Film (Worldwide) – Akeda (The Binding)
Best of Fest – Animation Short Film (Worldwide) – Two Balloons
2018 CFF Judges Pick – Make Love Great Again