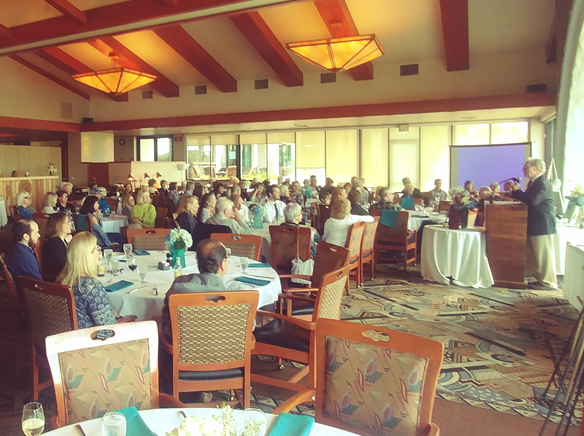 For the Islander
More than 150 Catalina Islanders gathered with "overtown" friends Monday to say their goodbyes to a woman who is believed to have been one of the first non-native Islanders actually born on the Isthmus.
The well-wishers spent the afternoon at the Old Ranch Country Club in Seal Beach to watch a video and share stories of Helen Wilson, who passed away at 96.
Though she was a resident of Garden Grove, her deep roots on Catalina Island brought many islanders to the memorial.
Helen's parents, Bill and Frances (Vincon) Greig moved to Catalina in 1916 when Bill worked for the Empire Landing Rock Quarry.
Later, they managed the Wrigley's concessions at the Isthmus.
Helen graduated from Avalon High School in 1940 yet, like many, was partially separated from the Island by World War II.
Bill Fortier, her nephew and retired U.S. Army colonel, presided over the ceremony.
Apparently, Helen was quite the golfer as many of her long time dear friends spoke incredulously at Helen's golfing ability.
The ceremony was held at the Old Ranch Country Club in Seal Beach, where Helen was a founding member and beloved by the staff.
Besides golf, Helen loved world travel, playing cards, doing jigsaw puzzles, reading and spending time with family, all of whom love and miss her very much.
She was married to her husband John for 57 years and was preceded in death by her husand and three siblings.
She is survived by sister-in-law/partner-in-crime, Mary Greig; best friend, Ruth Sandberg; goddaughters, Gay (Bob) Anderson (daughter Kelly [Hank] Snapp) & Jude Sandberg; nieces/nephews, Kristina (Bill) Fortier (children Ananda & Shauna Vance), James (Karen) Greig, Jeff (Shelly) Greig (children Courtney [Dustin] DeRouchey, Dr. Chasen [Caitlin] Greig, Collin [Kirsten] Greig), Sharon (Les) Chang, Nancy (Joe) Cahill; great-great nieces/nephews, Gregory & Grant Cook, Eli & June Greig, & Duke DeRouchey; & great-great goddaughter, Tristen Snapp.
According to Helen's wishes, she was cremated, and her ashes will later be scattered by family members in a private ceremony.