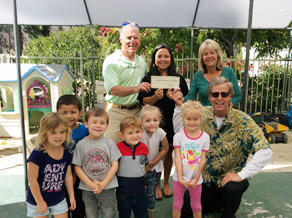 For the Islander
For the Islander
Big smiles come in all sizes, as evidenced by this photo showing the Catalina Island Foundation handing a $10,000 check to Catalina Kid Ventures (CKV) staff and participants. This check completes CIF's $20,000 commitment to resurfacing the CKV playground area.  CIF has been supporting CKV since 2014 when funds were allocated for a purchase of new playground equipment for toddlers. In 2015 CIF provided funds to resurface part of the playground, and this latest donation will allow for a complete coverage of the playground's surface with safety material.
"The safety of our children is a top priority at CKV," said Carol Burcome, CKV preschool director. "We are very grateful for CIF's kind and thoughtful donation and its support of the children, parents and teachers of Avalon."
CIF supports youth groups, scouting programs, school field trips, health initiatives, substance abuse education and remediation, sports and performing arts organizations, and college scholarships. Funding requests are accepted on a regular basis from all non-profit civic groups working to improve the quality of island life. For more information about CIF, visit www.catalinaislandfoundation.org or call us at 310-427-2450.