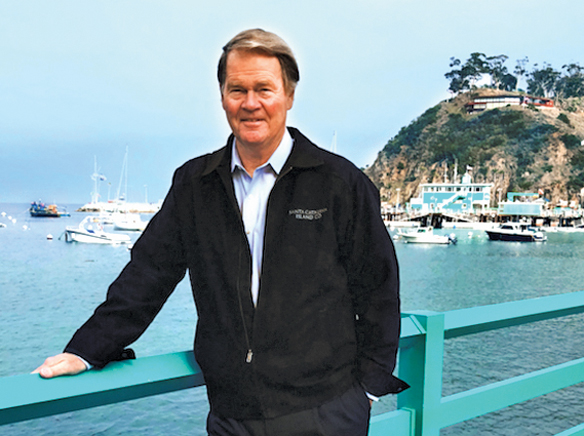 New facility needed to meet state mandates for earthquake safety by 2030
One of the key issues surrounding the future of healthcare on Catalina Island is no longer an issue as the Island Company has announced a land donation that could usher in a new era of healthcare on Catalina Island.
Catalina Island Company CEO Randall Herrel, Sr., reaffirmed the company's commitment to healthcare on the island as he announced a major step forward in the the future of the island.
"We are committed to quality healthcare on Catalina Island and to the partnership between the Catalina Island Medical Center and the Catalina Island Company," said Herrel in making the announcement.
Herrel said the Catalina Island Company will make It possible for a new hospital to be built by donating a 2.5-acre parcel of land valued at approximately $4 million and dedicate its use for an new hospital.
The parcel is located near the football field near Quail Canyon, said Herrel, and will provide CIMC with ample space for a new facility, including a state-of-the-art helipad.
"We obviously have a huge stake in the future of Catalina," said Herrel, saying the Island Company agreed to donate the prime real estate for a new hospital only after much quiet diplomacy with CIMC officials, including CEO Jason Paret, Co-Chairperson of the Board Carol Reynolds, and others over the past few months.
"We wanted to meet their (CIMC) needs," said Herrel, adding that the Island Company simply "thought donating the property was the right thing to do. We want to continue to improve this community," he said.
Catalina has enjoyed a significant growth spurt and many new investments recently and they concluded the island will indeed need a new generation of healthcare technology, said Herrel.
"Yes, the door is now opened for a new facility," said Catalina Island Medical Center CEO Jason Paret, confirmed to the Islander.
Since the defeat of the CIMC initiative in 2018, Paret said he has continually met not only with the Island Company but held public forums with residents and other groups to understand their concerns about what a new facility should and should not include going forward.
Catalina Island Medical Center (CIMC) has been serving residents of and visitors to Catalina Island since 1960. Back then, Avalon's population was 1,536 residents, with 250,000 visitors annually. The city now counts over 4,500 residents and welcomes some one million visitors each year – which means the hospital is serving more than four times the number it was built to serve almost 60 years ago, according to a CIMC press release.
Paret has been pushing for the construction of a new facility, saying the current facility is significantly undersized to serve the current patient care demand and has insufficient space to be able to meet the needs of our residents and visitors.
"The facility's current size and configuration cannot accommodate modern and expanded programs of care, prevention, health, and wellness that our community needs," said Paret.
"Even more challenging is the fact that the State of California has mandated that all hospitals must meet earthquake safety standards by the year 2030. It is not financially viable for the existing hospital to be retrofitted, so a new one must be built," he said
In summary, he said, a new Catalina Island Medical Center will be a state-of-the-art facility with all private rooms for inpatient and long-term care patients. In addition to the services already being provided at the medical center – including emergency, family practice, radiology, and more – many new services will be added. These include infusion therapy, digital mammography, women's health services, a surgical suite for outpatient procedures, and patient wellness education.
"The future is bright for the Catalina Island Medical Center, its island residents and visitors, thanks to the generous donation of the parcel of land by the Catalina Island Company," he added.
"It is a great day for Catalina Island," said Paret.