Second of two parts.
While many theories have circulated around the mysterious death of Hollywood actress Natalie Wood in 1981, a former Assistant U.S. Attorney and longtime attorney claims his five-year probe reveals riveting facts never seen before.
Attorney Samuel "Sam" Perroni will be in Avalon on the 40th anniversary of Wood's death to sign copies of his new book, "Brainstorm: An Investigation of the Mysterious Death of Film Star Natalie Wood."
As most accounts suggest, Wood apparently drowned off Two Harbors Nov. 29, 1981, while circumstances revolving around the case have never fully been explained with legal certainty.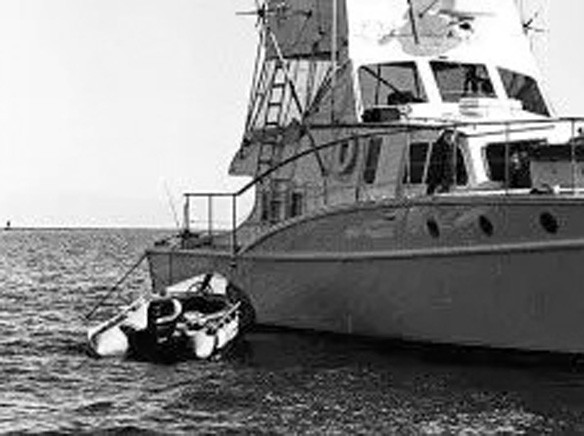 Perroni, who began his own investigation into the case after retiring from his law practice, said, first of all, there are key questions about the case that point to why the investigation was kept on the down low.
"We have two actual components in the Los Angeles County Sheriff's Department. We have the 1981 investigators and the people that were in charge there, including the sheriff himself. And then we had the 2011 investigators," said Perroni in an interview.
"So basically, I analyze the motives and circumstantial evidence behind their emphasis within their desire to investigate the case. Because there's a serious question as to 1981, whether they even had the desire to investigate," said Perroni.
"I don't think they did [fully investigate]," he said. "I think there's good reasons for it and in the book, I tell the reader my professional opinion as to the reason why the Los Angeles County Sheriff's department didn't fully investigate Natalie Wood's death."
Wood, who reportedly had a lifelong fear of water, apparently drowned after ending up in the water around midnight Nov. 29. She was accompanied on their boat "Splendour" by her husband, Robert Wagner, (then) co-star Christopher Walken and yacht captain Dennis Davern at the time of the incident.
Several books, including one by Davern and a ghostwriter, suggests there was plenty of alcohol and perhaps drugs on the boat that fateful night, and that Wagner and Walken had exchanged words.
Some have suggested she was attempting to escape the boat by boarding a small dingy when she apparently fell and Perroni says he used his investigative skills to analyze all of the known theories.
Perroni said, to him, previous investigations had not passed the "smell test," so he wanted to perform his own probe. Perroni is a former head of the Arkansas Crime Lab, defense lawyer and Assistant U.S. Attorney. "I understand forensic investigations and have witnessed autopsies," he said.
The former Assistant U.S. attorney said he conducted his own depositions (meaning interviewing people under oath about the case). In addition, Perroni said he also spoke to many of the Sheriff's Office detectives involved in the original investigation.
In addition, he found new sources and facts.
Perroni said his first goal was to establish a precise timeline of Wood's death, because he said a timeline can act like an informational traffic cop, sending signals to a destination.
"I also realized, as I was starting my investigation," said Perroni, "that nobody really looked into the effects of hypothermia in connection with Woods death and how that would impact the timeline because, you know, determining the exact time of death can many times actually create a funnel, whereto the evidence is funneled."
"I think I established a time of death beyond any shadow of a doubt. I mean, within a relatively short period of time, like within maybe an hour or so, but that's important, because it creates a window and that window is important to a particular crime, if you were actually investigating the case," said Perroni.
Perroni said he was able to depose Dr. Thomas Noguchi, Los Angeles "coroner to the stars" who was the medical examiner in the Natalie Wood case, although "I was hampered by his lawyers, telling him not to answer a lot of questions."
Perroni said he worked very hard to determine every available fact surrounding the recovery of Natalie Wood's body at the time of death and how the autopsy was handled. Also, Perroni said he asked questions that no one had asked before.
For instance, Perroni said it was critical to know tiny details, like "whether or not Natalie's jacket was zipped" when they pulled her from the water.
"Now, that's important when you read my chapter on the forensics of hypothermia and then I also asked him things about like, how they dealt with the body, and whether or not there was any occasion to scratch it or, or anything like that."
Perroni is an investigator for whom there is little room for error. "I demand accuracy," he said.
"When you have an unexplained death, and I don't care if it's a star or not; and in these circumstances, all three of the gentlemen on that boat were suspects until it was concluded that it was an accident," said Perroni.
"And so, you know, to say somebody is a person of interest and blah, blah, blah, that's just police department doublespeak. I mean, they're all suspects," he added.
Perroni said he tried to speak with Wagner, Walken and Davern. Wagner and Walken refused, he said, and said he refused to pay Davern for information, carefully examining their statements and writings instead.
Regarding Wood's husband, Perroni said "Robert Wagner has already done plenty of talking in his books, but it would have been nice if I could have talked to Christopher Walken." Walken has in the past reportedly told People Magazine "I don't know what happened…I was in bed."
"Personally, I don't believe the man [Walken] when he said he was sleeping through the whole thing," said Perroni. "I believe he heard some things and I believe that he withheld that information from the Los Angeles County Sheriff's Office in 1981."
Moreover, Perroni said he believes Walken made a statement to investigators when the case was reopened in 2011, but "I have no evidence" of it.
Perroni says his "Brainstorm" account is a fact-filled overview of the case that leaves the reader with solid information with which they can draw their own conclusions about what happened to Wood. It takes its name from Wood's last movie, which she was filming with Walken at the time of her death.
There is new evidence in the book, he said, that will "open your eyes, because some of that [evidence] was right in the nose of the Los Angeles County Sheriff's Department."
"The reader will get sort of an inside education, if you will, on how cases are prosecuted," said Perroni, and his book "takes the reader through the whole process and educates them about Natalie's case along the way."
Perroni will be in Avalon Nov. 29 to sign copies of the book that Simon & Schuster is expected to release to the public on Dec. 21. He will be signing copies of the book at the Hotel Metropole from 11:30 a.m. until 1:30 p.m.
"My book is about my investigation," said Perroni. "By laying out the factual information that I discovered along the way" his book introduces new statements that, he said have never been seen or heard about, or even thought about, nor were mentioned in any of the books that have been written up to this point in time.
Perroni states in his notes that he wrote the book "because I believed people like me needed closure. We needed something more than a news conference, sensational sound bites or vague accusations by a spokesman from the Los Angeles County coroner or sheriff's department. We needed the truth, and if it was possible, we needed justice."
"In the end," said Perroni, "the reader will be able to draw his or her conclusions about what happened that fateful evening forty years ago."
Editor's Note: Perroni has committed to donate all proceeds from his book to charities in the name of Natalie Wood. In addition, Perroni is the also the author of the five-star rated "Kind Eyes," a historical novel that profiles the story of Abraham Lincoln's love of the law and his role in accepting the legal defense of Peachy Quinn Harrison after he lost a bid for the U.S. Senate in 1859 and before he won the Presidency.
What others say about "Brainstorm":
"If you have any interest in deciding for yourself whether someone got away with the murder of Natalie Wood — this book is for you."
Marilyn Wayne, eyewitness