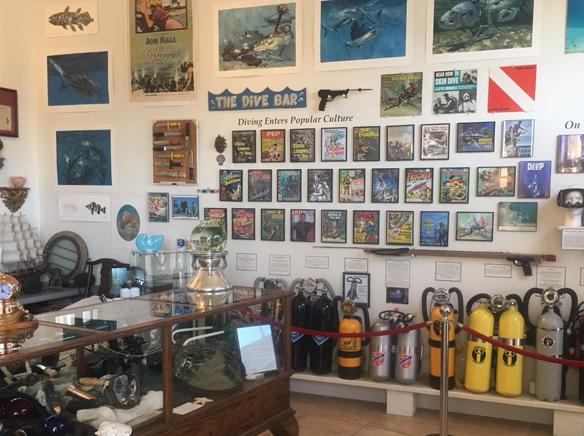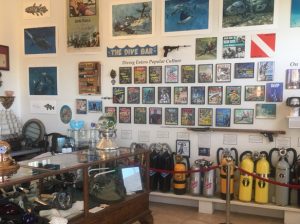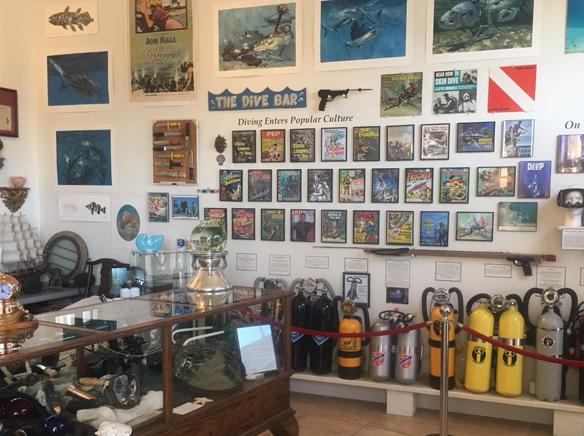 This Saturday, Feb. 24, will mark the 37th installment of the annual Avalon Harbor cleanup. For nearly four decades scuba divers have traveled to Catalina Island to don their gear, fix their breathing regulator in their mouths and taken to the depths of the bay to retrieve a myriad of items lost, tossed overboard or otherwise having found their way to the seabed. Residents of Avalon are tremendously grateful to these undersea enthusiasts who spend their capital, both monetary and time-wise on behalf of all of us who are fortunate enough to call this island home. Thank you.
As far as dives go, there are certainly far more luxurious destinations than any southern California boat harbor, but few sites can boast a more worthwhile purpose and cause, and again, a grateful community extends a warm & heartfelt thank you.
As a gesture of gratitude to all those who make the annual pilgrimage to Catalina to participate in the cleanup, one of the largest collections of historical diving equipment will be available for viewing in the Avalon Diving History Exhibit located in the ground level of the world famous Casino building right next to the Casino Point Dive park.
Even seasoned divers with many years of experience under their weight belts can be guaranteed to see items they've never seen before dating back from the earliest days of scuba history.
The venerable "Historical Diving Society" (represented in thirty-eight countries) has recognized the exhibit as containing one of the "Finest and diverse collections in the United States", which is here in Avalon available to the public for viewing and learning about .
While the exhibit was set up "for" divers "by" divers, you don't have to show a certification card to visit, the general public is welcome free of charge. A unique and interesting feature of the exhibit site is that it is also a base for the Island's "Marine Animal Rescue" program which established operations in 2013 as a satellite program from the thirty-seven year old Los Angeles County based organization of the same name.
The Catalina MAR team has responded to and rescued 713 animals since their inception in 2013. Animals responded to are as varied as the reasons for receiving the report on them. Net entanglements, fishing hooks and line wraps, animals on roads, gunshot wounds, etc, are typical reports responded to.
Whales, dolphin, seals, seal lions, (both adults and pups) shore birds, sea turtles, island fox, rattlesnakes, deer, are the types of creatures typically reported. You name it, if it creeps, crawls, swims, flies, runs or jumps, MAR has probably dealt with it.
The Bottom line is that the island's MAR team is committed to making a positive difference for the island's natural resources and contributing to the uniqueness of this treasured place.
As such, visitors who appreciate the value of non-profit animal rescue programs, they can sponsor Catalina's program via direct on-site donations at the Diving History Exhibit, or do so online at www.marspecialists.org.
The entire island community welcomes all divers and non divers alike to come share our home, enjoy yourselves and create a few fun memories while you're here on Catalina Island.
Thanks for your support!