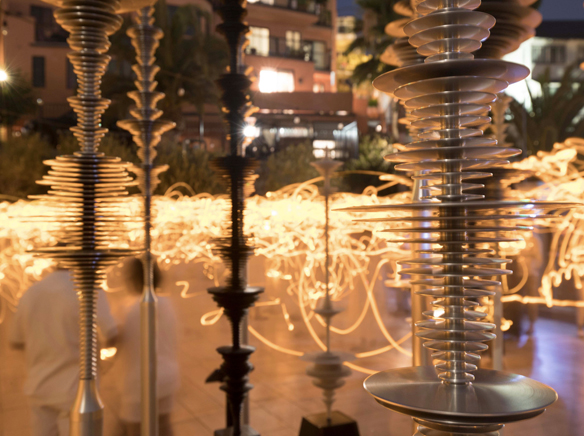 Inspired by a changing natural world, Elizabeth Turk's art elicits conversation and deep emotion surrounding ideas of extinction. Bird songs, archived by the Macaulay Library at Cornell University, create the foundation for Tipping Point, an outdoor sculpture installation at the museum. The exhibition gives three-dimensional form to extinct and endangered bird, whale and dolphin sounds, many of which have ties to California's Channel Islands.
Catalina Island Museum continues to bring art and culture to the community through virtual programming. In alignment with its ongoing Tipping Point sculpture exhibition exploring the concept of "extinction," the museum will host acclaimed sculpture artist and MacArthur "Genius" Fellowship Awardee Elizabeth Turk in a conversation with Executive Director Julie Perlin Lee for "Reflecting on Tipping Point" on Thursday, August 27, via Zoom at 7 p.m. Admission is free with registration online at catalinamuseum.org/calendar.
One year ago this summer, the Catalina Island Museum presented the official opening of Tipping Point. Turk's work was only a portion of the event where attendees participated in an experience honoring loss and the loneliness of being the last. Yet, they did this, together. With many of California's Channel Island birds on the cusp of extinction, Turk titled her work Tipping Point to highlight the danger to us all but also to show that there is hope. That we have an opportunity to make a difference. She asked all attendees to wear white to represent "ghosts" and ended the night in darkness to represent extinction.
Join the museum for a virtual event as it gathers again to reflect upon what was created together at Tipping Point and what extinction means in today's environment. Lee will speak with Elizabeth Turk (Artist), Erik Thienes (Lead Photographer), Lara Wilson (Choreographer), dancers from The Assembly Dance Company and others to reveal their process and thoughts, then and now.
Like the first Tipping Point gathering, this event will also feature an interactive element. Participants are encouraged to watch from a dark room in their home and using a candle or flashlight, they will be given certain directives to follow which will end in darkness once again.
Experience the Catalina Island Museum and Tipping Point exhibition from home through the museum's social media platforms @CatalinaMuseum on Facebook, Instagram, and Twitter. Check out the virtual tour and behind-the-scenes making of Tipping Point on IGTV.
Admission is free with a suggested donation of $20 online at catalinamuseum.org/calendar. The first 60 guests to donate $20 or more will receive a Tipping Point CD created with the music composed and performed by Michael Mortilla along with Nicole Garcia from last summer's live event. A dedicated Zoom link and instructions to join the event will be sent to registered participants a couple of days prior to the event.
More Information:
To help keep the art and culture of the iconic Santa Catalina Island alive, please support the museum by texting "Magic" to 50155 or visiting catalinamuseum.org/donate.