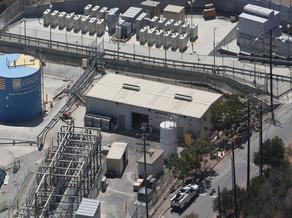 A desalination expert presented a $19-million plan to improve Avalon's desalination system to the City Council this week. The $19 million (rounded) price tag would be for construction costs. Maintenance and operations would add almost $1 million a year to the cost. The project would include adding almost 2 million gallons of water storage capacity to the system. (Last year, Avalon staff proposed adding a 2-million gallon tank.)
A desalination expert presented a $19-million plan to improve Avalon's desalination system to the City Council this week. The $19 million (rounded) price tag would be for construction costs. Maintenance and operations would add almost $1 million a year to the cost. The project would include adding almost 2 million gallons of water storage capacity to the system. (Last year, Avalon staff proposed adding a 2-million gallon tank.)
According to City Manager David Jinkens, up to $10 million in Proposition 1 grant funds would be available for desalination improvements. "Ten million would go a long way to making improvements that are needed in the near and middle term. We can always and will seek other grants for the remainder of the improvements."
According to Jinkens, the projected costs included 40 percent for contingencies and city officials hope the actual costs will be less than $19 million.
Dr. Val Frankel,  a vice president with the environmental engineering company Greeley and Hansen, looked at three alternatives for improving the desalination system. Frankel's study was based on water production and use from 2006 to 2016 and on projected water demands in 2035. The study, which was originally expected to be completed in December, looked at water used by both Avalon and Hamilton Cove.
According to Frankel, there is a trade off between water storage capacity and water desalination treatment. Large treatment capacity means a small storage capacity and a large storage capacity means a small treatment capacity.
Fankel's firm is recommending "Alternative 1," which would add a third seawater well to the two that are already in use and increasing water storage to 1.83 million gallons when the project is completed.
Avalon's desalination system differs from others in that the seawater is drawn from wells rather than an intake pipe that juts out into the ocean.
The plan would also replace one of the reverse osmosis machines in the first of the Island's two desalination units. Frankel said the improvements would be added in three phases. In phase one, a half-million gallon tank would be added. In phase three, a 1.33 million gallon tank would be added.
According to Frankel, the improvements need to be made in phases to see how the desalination system responds to the changes so the project can be adjusted accordingly.
Southern California Edison owns the city's water utility. City officials and Edison representatives agree that Avalon needs more water storage. They have disagreed on how much.
Right now, according to Frankel's PowerPoint presentation, the Catalina seawater wells can generate almost 600,000 gallons of water a day. However, the required seawater source is more than 1.4 million gallons a day. The "operational" (practical) capacity of the Catalina desalination plant is 230,000 gallons per day. Three storage tanks at the plant combined can hold up to 375,000 gallons a day, but a minimum of 125,000 gallons has to be kept in the tanks—which means a practical storage capacity of a quarter million gallons.
According to Frankel's presentation, by 2035 Avalon will need 600,000 to 1.83 million gallons of storage, depending on which plan is followed to upgrade the desalination system.
That's the supply side of the issue. Now for the demand side.
Currently, Avalon has a maximum daily water demand of more than 1.3 million gallons. Frankel expects to see comparatively little growth in Avalon and expects that maximum daily demand to reach more than 1.4 million gallons a day .by 2035.
According to Frankel's study, the demand for water in Avalon is highest in the summer months, with the peak in demand coming in August.