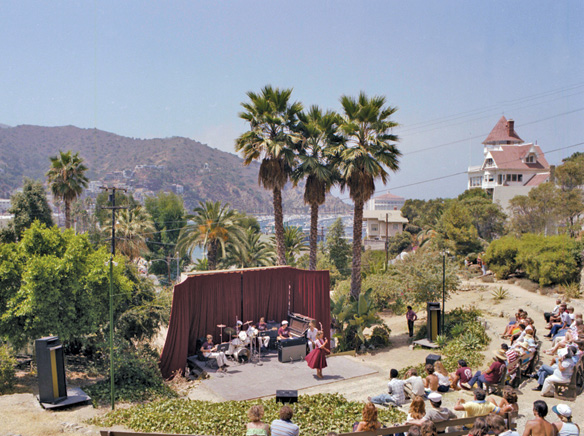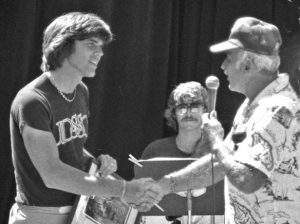 Entertainer John Davidson's love of Catalina Island is well known by Islanders old enough to remember his groundbreaking summer camps four decades ago.
Davidson will be back on Catalina Island this weekend to hold a reunion of many entertainment industry professionals that got their start on Catalina at the John Davidson Singing Summer Camp which began on the island in 1978.
According to a new book by his longtime photographer Nancy Clendaniel, "The JDSSC Experience," the riveting story begins on the night of May 28, 1977, as Davidson was at the height of popularity. He was the headliner at the Beverly Hills Supper Club and the place was packed, some say beyond the fire marshal's rating, when a fire broke out.
Had it not been for an exit door ordered earlier in the year by singer Raquel Welch, Davidson would not have survived. As it is, he lost his musical conductor in the fire along with 164 other souls who could not escape the fire.
According to Clendaniel, Davidson was devastated; so much so that he was determined to give something back to the industry that he loved so much. Davidson often retired to his 96-foot yacht, Principia, and he often frequented Catalina Island, a place he found solace and inspiration.
Still soul searching and wanting to give back, Davidson appeared on The Tonight Show with Johnny Carson in January 1978. He invited singers and entertainers throughout the country to send in cassettes or VHS (just invented) and he would pay for the top 50 to come to Catalina Island that summer. No one knew it then, but it was the first attempt at crowdsourcing talent, two decades before the internet became a reality.
Clendaniel said the tapes poured in and Davidson kept his word to create an entertainment camp. He tapped top executives from leading shows like Carol Burnett and others to help him sort through the tapes and bios. For the ones selected, Davidson asked only for a small stipend for incidentals and he agreed to fund the rest.
Davidson and company set up shop at Toyon Bay and the first John Davidson Summer Singers Camp was held in the summer of 1978.
Davidson was at the time a superstar and recruited among superstar ranks to come to Catalina to teach the students. Talent like Andy Williams, Florence Henderson, Kenny Rogers and Tony Orlando gave their time to come to Catalina to tutor the students. They learned about the entertainment industry, learned the basics of performing on stage, and had top industry professionals tweak their skills in performance and delivery.
At the end of the camp, the students would perform much like they do on today's American Idol, even if the stage was the amphitheater at Avalon Bay and the only airwaves on which the performances floated was the warm Catalina breeze.
"It was an incredible experience for everyone involved," remembers Clendaniel, who is a well-respected photojournalist in the entertainment industry.
The annual camp continued until Davidson's career required more attention. By then, however, many of the "students" were on their way and went on to have amazing careers as singers, entertainers and industry executives.
"Many of them are coming back this weekend," said Clendaniel, adding that the group has chartered a boat that will take them from Avalon to Toyon Bay for a bar-b-que and social so that she and Davidson can get reacquainted with them.
"This experience was forty years ago," she said, "adding that many of the returning attendees are now either retired or getting close to doing so. We think it's going to be a lot of fun."
"Compiling "The JDSSC Experience" has been a journey that's taken well over two years to complete; a "labor of love" that's entailed endless hours of research, fact checking and the digital preservation of my JDSSC photo archives – plus two round trips from Seattle to Catalina Island," said Clendaniel.
"The primary goal of this extremely personal mission was to ensure that JDSSC would be officially recognized as a unique part of the history of Catalina Island. Doing so would also serve to honor entertainer John Davidson and all who participated in his groundbreaking approach to training entertainers," she said.
Clendaniel said they began planning the event after receiving official notice on September 12, 2017 from the Catalina Island Museum's Assistant Curator, Jessica Zumberge, that the museum's Collection Committee "had voted unanimously to accept my donation of The JDSSC Photo Archives—a collection of photos and related memorabilia."
"It's enormously gratifying knowing that this esteemed museum now serves as caretaker for such a special portion of my life's work and will preserve it, along with the history of JDSSC, for generations to come," she said.
Clendaniel said Island resident and well-known music professional Billy Delbert was instrumental in coordinating this weekend's activities. Davidson will be on Catalina for the reunion cruise and for a special event at the Pancake Cottage to launch the book and the memorial archives, Clendaniel said.