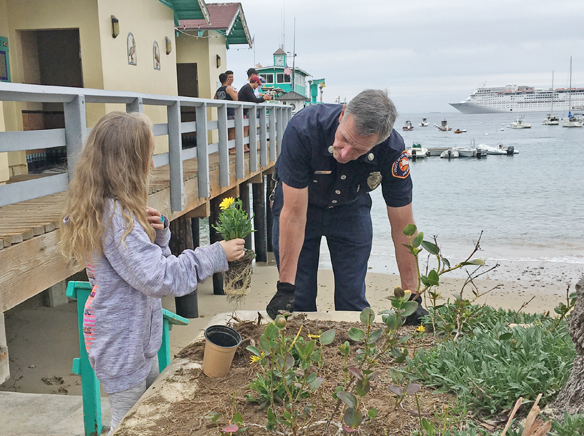 Despite its seemingly intractable problems, Catalina Island got a fresh start of sorts this week as the Avalon Rotary Club and the city teamed up to plant more than 500 trees, bushes and other plants as part of its ongoing renewal program.
Spring has always been a time for rebirth and renewal. It's no secret that the egg is the symbol of Easter, as both in animal and human life, the egg represents birth and from birth we can grab onto hope.
Small plants and seedlings planted this week will grow one day into mature trees and plants, bringing new joy and beauty to what is already an incredible example of nature's beauty.
One is left to wonder what the tiny tree of today will see when it grows into a strong, mature specimen. What will become of Catalina?
More than that, it was in the simple and unexpected process of planting from which islanders can take hope and inspiration.
Quite ironic that as city officials host debates and forums where some islanders complain the same old problems are rehashed from term to term, visitors to the island oblivious to the problems and inherently joined in the beauty. As Rotarians and city officials fanned out across the island to plant, unexpected things began to happen. Younger citizens, visiting the island, asked to join in.
According to Bryce Noil, president of the Rotary club, a group of students visiting the island from Oklahoma State university simply saw the activity and asked to help. Obviously, the beauty and majesty that is Catalina Island has within it the inherent power to inspire.
We know from history, Catalina Island has inspired some of the greatest actors, screenwriters, novelists and others. But the fact that it has the power to inspire a new generation should not be lost on islanders. In fact, the last plant that was put in the ground as an investment into the beauty of the future was done so but a young lady visiting the island from a cruise ship. She just stopped touring, shopping and whatever and asked to help.
Catalina Island does have many problems and officials will hopefully find a way to eventually come together and fix them.
That the city and Rotary club planted 500 new things to grow in Avalon, so too should the incredible pride that can motivate sheer strangers from around the world to want to have a hand in the island's future. It's a spring reminder that the natural beauty that is Catalina Island has the power to command awesome respect from total strangers.
Now if only spring hope could produce fall solutions.
David N. Young is editor of the Catalina Islander. He may be reached at editor@thecatalinaislander.com.