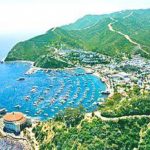 Courtesy of Love Catalina Island
Following Disney Cruise Line's inaugural visit to the port of Avalon on Catalina Island in March 2022, Love Catalina, the official Catalina Island Tourism Authority, this week announced that Disney Cruise Line plans to call on the port nine times throughout 2023. Guests aboard the Disney Wonder and Disney Magic will visit idyllic Catalina Island and experience the destination's dining, and adventures.
Cruise ship visits are an important part of the local economy. However, some residents are concerned about the impact on the quality of life when the number of people in town surges due to the influx of passengers who come ashore.
"In 2017, day visitor spent $127 per person and 62.2% of cruise visitors took a land or sea tour. Disney travelers tend to be larger family groups thus increasing the economic impact. A quick straw poll after the inaugural visit of the Wonder resulted in merchants reporting visitor spending that day to be about 50% greater than average," wrote Jim Luttjohann, Love Catalina president and CEO.
Catalina Island and the Port of Avalon have welcomed visitors to the island via cruise ships since its earliest days as a travel destination beginning in the 1920s when the SS Catalina, a.k.a. the Great White Steamship, carried guests to the island. The port looks forward to welcoming Disney Cruise Line to its impressive lineup of cruise lines that frequent the port today.
Catalina Island offers warm temperatures, colorful structures, stunning blue waters, and green mountains giving it a Mediterranean vibe. When visiting the island, enjoy the iconic Green Pleasure Pier, Casino Theatre and Descanso Beach Club. Take part in wildlife, with the 42,000+ acres of pristine wilderness protected by the Catalina Island Conservancy where excursions take visitors to see unspoiled California landscapes and wildlife that include American Bison, Miniature Island Foxes and Eagles nesting on the cliffs. The Disney Wonder was scheduled to visit on March 5 and 9, which covers two of the nine planned visits. The Disney Wonder and Disney Magic are scheduled for the following dates:
• March 13, 2023 – Disney Wonder
• March 30, 2023 – Disney Wonder
• October 23, 2023 – Disney Magic Inaugural Visit
• November 26, 2023 – Disney Magic
• November 30, 2023 – Disney Magic
For more information about the Disney Cruise Line or to book a vacation, visit disneycruise.com.