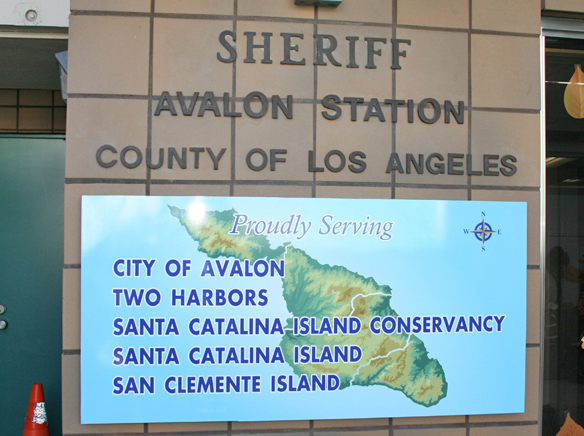 Editor's note: The fol-low-ing is the Avalon Sheriff's Sta-tion significant incidents report for the week of Sept. 16 to Sept. 22, 2020. All suspects are presumed innocent until proven guilty in a court of law.
September 16
Deputies responded to a traffic collision on Vieudelou Avenue west of Hill Street regarding a bus and a truck. The vehicles suffered minor damage and there were no injuries.
Deputies responded to a call where a man threatened someone with a handgun on Pebbly Beach Road. Deputies responded and detained the man. It was determined the gun was a BB gun and not a real gun. No crime had been committed.
September 17
An informant called the Avalon Sheriff's Station to report one of her family members missing. The family member lives in San Pedro. The Los Angeles Police Department will be handling the missing person's case.
September 18
A victim reported that she came to the island and was sexually assaulted by a friend. The friend has been identified and the deputies are conducting a sexual assault investigation.
September 19
Deputies received a call of a stolen golf cart in the 300 block of Catalina Avenue. Deputies conducted an investigation and learned a 14-year-old Avalon juvenile allegedly stole the golf cart. The same 14-year-old juvenile has been detained for stealing other golf carts in the past.
September 20
Deputies responded to the Descanso Beach Club regarding an intoxicated male causing a disturbance. Deputies arrested Vardan Brunsuzyan, 52, of Hollywood, Ca. for suspicion of being intoxicated. The man also had a $15,000 warrant for domestic violence.
Deputies responded to the 400 block of Crescent Avenue regarding a business dispute. Deputies learned a man from Saugus was upset that the burrito he ordered did not have meat in it. During the dispute, the man threw the burrito against a wall inside the business breaking a Plexiglass window stand. Mace Lambert, 48, of Saugus, was arrested for suspicion of vandalism.
September 21
Deputies saw a motorist driving in circles in the 100 block of Catalina Avenue at a high rate of speed. The deputy was concerned the golf cart was going to roll over on its side. The driver was issued a citation for driving without a valid driver's license.
September 22
Deputies responded to the 600 block of Beacon Street regarding someone playing loud music bothering residents. The disturbing party was cooperative and turned down the music.
Safety Note
You must wear a face covering when in any Avalon business, on the Catalina Express, Newport Flyer, and in public when around others.