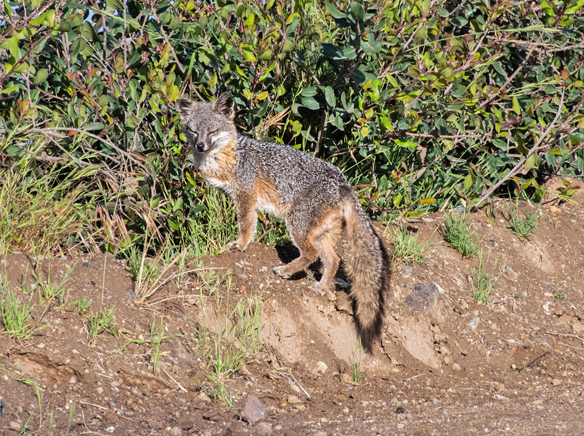 Opportunity to learn more at Conservancy Lecture Series
The Catalina Island Fox was once near extinction. Conservation efforts helped stabilize the island fox population and the species now inhabit six of the eight channel islands. On Friday, Feb. 25, there will be an opportunity to find out more about these animals, which are the smallest fox species in North America.
The Catalina Island Conservancy will host its Final Friday Lecture series, with members of the Friends of the Island Fox organization sharing updates on their work to protect the foxes. Some of those efforts include determining what they eat to protect their food sources and vaccinating them against rabies and a canine distemper that reportedly reduced their population by 90 percent in the late '90s.
The lecture will be led by Mike Watling, president of the Friends of the Island Fox organization and Keri Dearborn, Education Director for the Friends of the Island Fox. Watling is a California Naturalist and volunteer with Channel Island National Park and National Marine Sanctuary. He is certified in wildlife track and sign interpretation and has followed the island fox recovery since 2000 and joined the FIF in 2016.
Dearborn has served Friends of the Island Fox in various capacities since 2005, including VP of Education and President. She has a bachelors from UCLA and a masters in Environmental Education from CSU San Bernardino.
Following a count of the island foxes in 2020, it was reported that the populations on all six islands were stable. Island foxes vary from island to island, with Catalina Island foxes being the largest of the species. There were an estimated 1,807 foxes on Catalina. The most populous island was Santa Rosa, which had and estimated 2,657 foxes, followed by Santa Cruz with 2,339. San Miguel Island had the fewest with just 277 estimated foxes inhabiting the island.
The Last Friday Lecture Series on Feb. 25, Saving the Island Fox, will be a virtual event, from 5:30 to 6:30 p.m. Registration is free, but donations are accepted to help fund conservation efforts. To register, visit catalinaconservancy.org to find a link. For more information, call or email Hillary Holt at 310-510-2595 ext. 4221 or hholt@catalinaconservancy.org.