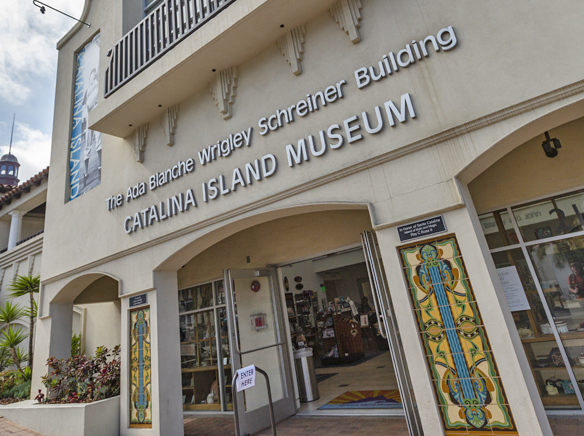 Courtesy Catalina Island Museum
The Catalina Island Museum took its programming online at the beginning of the pandemic. Since that time, it has been offering monthly educational programs for its members and the Avalon community. During this holiday season, the museum has planned a special Zoom event and weekly art projects just for the kids!
Every Thursday: Art to Go
Geared to children ages 6 – 12, the museum is now offering "Art to Go." Every Thursday, art kits will be available for pick up in front of the museum. These kits will include a specific project paired with an art lesson. Instructions and all materials are included.
The current project has the children of Avalon joining a worldwide movement in which they create rainbows and place them in their windows to spread positivity while staying safer at home. Along with the materials, the kit included a color theory lesson.
Be sure to watch the museum's social media outlets for specifics on the upcoming Art to Go projects.
Saturday, December 19: Ho, Ho, Ho! It's a Holiday Show!
A special virtual meeting with Santa and Mrs. Claus! Get the little ones together for a special virtual event featuring story time with Mrs. Claus, a holiday song singalong, an ornament craft project and a slideshow of holiday related plein air paintings.
Between 11 a.m. and 12:45 p.m. – Set up a private virtual meeting for your child/children to have a moment with Santa so they can share what they want for Christmas or ask him questions. A digital photo of your child/children 'with' Santa will be taken and shared with you via email. Each photograph includes a festive holiday border. Times will be scheduled every 15 minutes during this time by Programs and Events Coordinator Kellie Costello. If you are interested, you are asked to contact her at events@catalinamuseum.org or 310-510-4650.
The main program begins at 1 p.m. Mrs. Claus will get things started with story time. Get the kids cozy in front of the computer screen while she reads a couple of her favorite books. Following that, the kids will have a chance to show off the ornaments they decorated. Parents and kids alike will enjoy a slideshow of beautiful Christmas-inspired plein air paintings and a holiday song singalong.
Ornament kits may be picked up at the museum now through Sunday, Dec. 13 between 10 a.m. and 5 p.m. Be sure to register before picking up your craft kit. The event will take place entirely on Zoom. Though there is no charge for this event, the suggested donation is $20.
Due to the state and county mandates the museum's exhibition galleries are temporarily closed. Its retail store is currently open for in-store shopping Wednesday – Sunday from 10 a.m. to 5 p.m. at a reduced capacity with enhanced health and safety precautions to ensure the safety of visitors and staff. For more information, please visit catalinamuseum.org. To stay connected and enjoy the museum's virtual programming during this time, follow the museum's social media platforms @CatalinaMuseum on Facebook, Instagram, and Twitter.