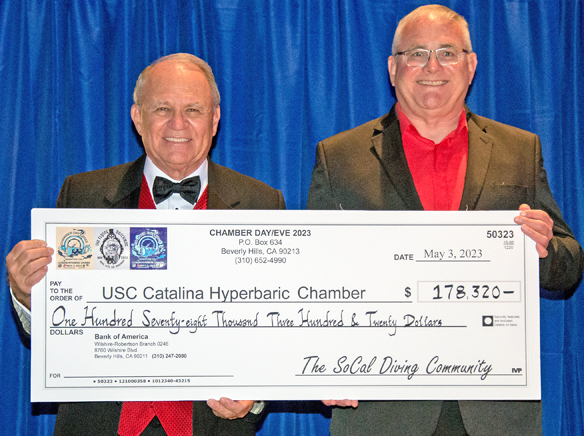 Chamber Day 2023 set another fund-raising record this year, netting an announced total of $178,320. The event – always the first Wednesday in May so May 3 this year – is an annual fund-raiser sponsored by the diving community as a whole and helps provide much-needed public funds for the USC Catalina Hyperbaric Chamber, located in Big Fishermans Cove at Two Harbors. The event has a number of components that divers can sign up and pay for.
Everything got underway at 7 a.m. as 79 divers headed over on five different dive boats to do two dives at the island and also pull into the Chamber dock to meet with first responders as well as get a walking tour of the Chamber facilities, located on the campus of the USC Wrigley Institute. Festivities continued that evening as 293 members of the diving community took over the Aquarium of the Pacific in Long Beach for an evening that included an opportunity to walk around the Aquarium, a sit-down dinner in the main Great Hall, and a program of acknowledgments and prizes, with the evening culminating with the announcement of the monies raised.
Although the Chamber is run by USC and receives a grant from L.A. County, it relies on public funding for over half of the annual operating budget. Chamber Day each year provides the bulk of those monies.
2024 will mark the 50th anniversary of the Chamber serving divers in the SoCal area and plans are already underway for Chamber Day 2024, which will be held on May 1.