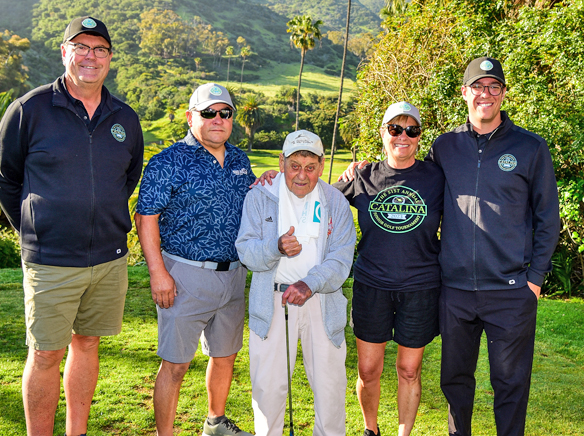 The Catalina Junior Golf tournament had not been played since 2017. My wife Jackie, son Ryan and I decided to bring it back to Avalon. Lolo Saldana and his brothers began this event back in the 1960's and Marty Saldana led this tournament for many years. They did a great job hosting a competitive tournament while creating a welcoming and fun family atmosphere.
It was our goal to do the same. We wanted to honor Lolo and Marty's long history of running this event and years of supporting junior golf. They were introduced at the first tee on Saturday and Marty got the tournament started with a ceremonial first tee shot that went straight down the fairway.
Forty-six players from all over Southern California entered the tournament ages 9-18 with flights for different age groups. It was a 36-hole event over two days. In addition to golf, players and families enjoyed a great BBQ, mini golf, making new friends and enjoying time in Avalon. The course was in great shape thanks to the efforts of the golf course staff. This was no easy task due to the damage caused by the rain and flooding.
The tournament will return next year.
Results:
Boys 15-18 – 1st Brayden Winn; 2nd Rigoberto Pedroza; 3rd Johnny Rasmussen
Girls 15-18 – 1st Sophia Magana; 2nd Faith Hamstreet; 3rd Jaisyn Gless
Boys 12-14 – 1st Dominic Wilson; 2nd Matthew Chen; 3rd Liam Hartigan
Girls 12 – 14 – 1st Isabel Lopez
Boys 9-11 – 1st Jeremy Yi; 2nd Jack Ross; 3rd Louie Li
Girls 9-11 – 1st Cecilia Jiang