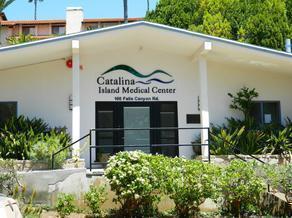 A concerted effort by the Catalina Island Medical Center to improve services while keeping costs under control is showing up on the facility's bottom line, according to Jason Paret, the hospital's CEO. Since arriving at the facility two years ago, Paret said he has worked to improve services, keep costs low and recruit top medical personnel for the institution. "Our financial position is showing steady, incremental improvement.
Early on, Paret said he realized the institution needed to shore up support from islanders. A study performed about the time of Paret's arrival at CIMC indicated that 85 percent of all healthcare dollars spent by islanders were going to the mainland.
With the changes and reforms instituted by Paret, including the recruitment of new physicians, usage of the CIMC by islander is growing by double digits.
With growing utilization from island residents, CIMC has seen double digit revenue growth as well. Paret said the hospital's revenue, this year alone, has grown 14 percent, excluding the addition to revenue from the pharmacy.
With the addition of revenue from a pharmacy, now owned by CIMC on the island, Paret said total revenue is up over 20 percent this year.
"For the first seven months of the current fiscal year, we are showing a profit of $360,000," said Paret.
While that may sound encouraging, Paret said the revenue will in no way support the cash flow required to construct a new facility.
The CIMC is under a state mandate to meet new earthquake standards by 2030. Paret is working with city officials, the Catalina Island Company and residents plan for a new facility that not only meets the new standard but that will also provide vastly upgraded medical services to the island. They have proposed putting a $1 transit tax on ferry goers which will generate $2 million per year for the institution.
Paret has discussed with the United States Department of Agriculture the potential of making a rural development loan to build the new facility, estimated to cost somewhere in the range of $40-50 million.
Catalina Island is officially considered a "rural area" by USDA and thus, would qualify for a very low interest loan.
According to Paret, the proceeds from the transit tax would be sufficient to satisfy the low interest loan, which he projects would be paid off in 40 years.
The margins from CIMC operating revenue, could then be used to "recruit and retain" top medical talent for the facility as it seeks eventually to capture half of all of the healthcare dollars being spent by islanders.
"This would be a significant increase in volume from where we are today," he says. "It can be done," he added, "we continue to grow by double digits."
Paret said while there would be limits to the kinds of procedures performed in a new facility, islanders could expect a vastly improved environment and enhanced levels of service.
The nonprofit Catalina Island Medical Center Foundation and the CIMC board are both on board with the expansion, working with officials to support the staff and administration.
For now, however, Paret said he is satisfied with CIMC's financial progress. "We've made a commitment to control costs, which we have," he said.
All of the current increases, he added, have come with increased volume as the facility has not raised prices for their exiting services.
"We have our ups and downs," said Paret, but "we are a much stronger organization providing a higher quality of service to the community we serve."