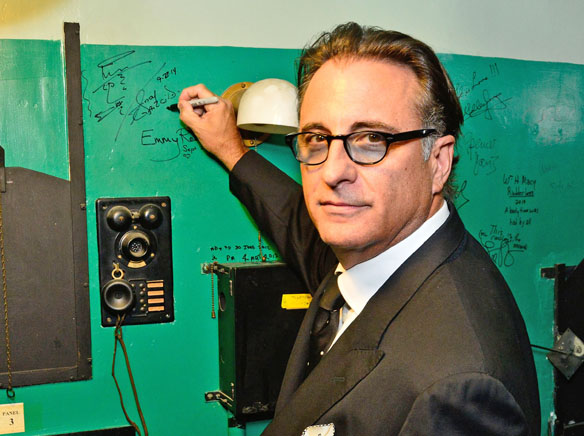 The 2022 Catalina Island Film Festival, featuring events both on the Island and on the mainland, began earlier this week and continues next.
Below are Catalina Island highlights:
• Friday Red Carpet US Premiere: On Our Way (7:30 p.m., today, Sept. 23).
A young writer struggles to rewrite his own love story as he recounts his past relationship in this surreal romance.
Cast in Attendance: Sophie Lane Curtis, Micheál Richardson, Jordana Brewster, Ruby Modine (Matthew Modine's daughter – Shameless), Keith Powers (Straight Out of Compton)
Celeb in Attendance: Christopher Knight (Truelove: The Film, Brady Bunch)
Saturday Red Carpet & Awards – Feature Film: Mental State, cast/crew in attendance
In the heart of rural Kentucky, a high school senior and his family struggle to cope with the true identity and intentions of a dangerous town shooter.
• Celebs in Attendance: Demetrius Grosse, actor in the new "Avalon" TV show.
• Master Class: Film Commissioner's Panel (1 p.m., Saturday, Sept. 24)
The panel features Sabrina Jurisich, Charla Teeters, Jim Luttjohann; Kari Crutcher, moderated by Eve Honthaner (Former President of AFCI, Former Deputy Director of the CA Film Commission, Author & Educator)
Master Class: Produce & Distribute your Best Feature Film Kalani Dreimanis (Blue Fox Entertainment), Andrew Chapelle (Producer/Actor), Nick Thomas (Producer, Amazon Queen), Lise Romanoff (CEO Worldwide Distribution of Vision Films), Deborah Lee Smith, Producer/Actor
Known for its storied history and sweeping views, Catalina Film Festival hosts the annual awards ceremony and red carpet premieres at the iconic Avalon Casino Theater. Past celebrity guests and honorees include Nicolas Cage, Jon Favreau, Stan Lee, Kevin Hart, Mira Sorvino, William H. Macy, Andy Garcia, Sharon Stone, Emmy Rossum, Richard Dreyfuss, Kate Bosworth and more. CFF is a competitive festival with awards in multiple categories, including the Stanley Kramer Social Artist Award, Wes Craven Horror Award, and Conservation Award.
For tickets, complete schedule and more information, CatalinaFilm.org