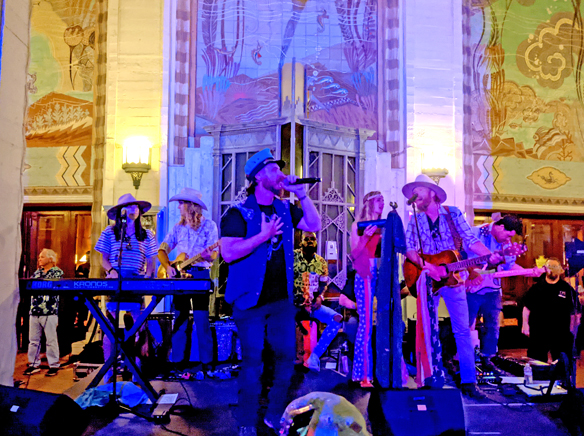 Movie, music, dancing, and capacity crowd marked events return
There's something about seeing a movie in the iconic Catalina Casino movie theater, even one you've seen before, that makes it a little special. Mix in a pre-movie party outside and a group of fans of the movie enjoying a weekend based on said movie and the reaction is electric.
The showing of the movie, Step Brothers, was just one event in the weekend event known as The Catalina Wine Mixer, but as the impetus for the event and with the infamous references to the island, the movie essentially kicked off a weekend of music, wine, food and drinks and a racous party atmosphere.
Prior to the movie, the Kelly Boyz band riled up the crowd with a rocking show of classic rock and country music. The Kelly Boyz are a full-service entertainment group. They play small acoustic shows, all the way up to their eight-piece band concerts. They also offer DJ shows and even line dance lessons. Although, there were no lessons needed on Friday as the crowd awaiting the movie were up and dancing from the get-go.
Those who attended the movie, it seemed obvious, were mostly already fans of the cult classic film and boisterously showed their fandom. Mentions of the Catalina Wine Mixer during the movie were met with cheers and the shot of the Casino building from the air brought a howl of cheers from the audience.
It was just the beginning of the weekend for the large crowd and it was followed by a beach party and the actual wine tasting event and more music and dancing on the lawn at Descanso Beach. Dozens of wineries were on hand offering samplings.
With the weather warming up, cold light wines seemed like a good idea. I enjoyed the French Blue Rose' produced in Napa and Dry Creek Vineyards' Chenin Blanc, produced a little further north in Healdsburg California. Both worked well on a warm afternoon in Descanso.
The event wrapped up that night, with more music, headlined by Common Sense band and DJ Splyce. The 7th Annual Catalina Wine Mixer is scheduled for June 3-4, 2022.