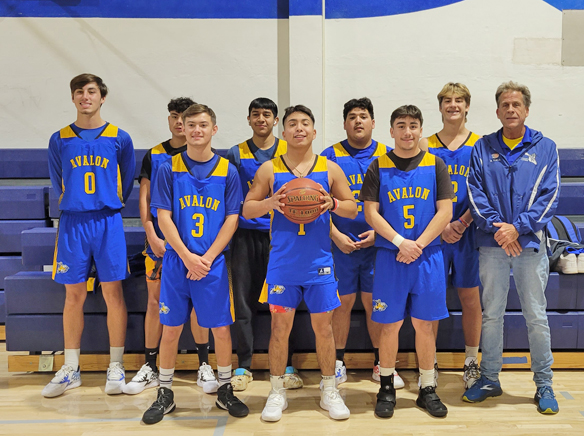 The Avalon Boys Varsity Basketball team has had a rough start to the 2022-2023 season. The Lancers were defeated at home in their season-opener against Geffen Academy 59-31 on Saturday, December 3 and then on Friday, December 9 they lost to Santa Ana Valley, on the road 60-42.
Against Geffen Avalon was outscored 15-2 in the first quarter and could never catch up. Sophomore Jacob Mello came alive in the 2nd quarter, scoring 8 points and Junior Manases Rubio came off the bench to play some tenacious defense and capture 6 rebounds with limited playing time. The Lancers couldn't keep up with the Bruins but fought until the end.
In their second game of the season Avalon came out stronger at the beginning but still trailed 16-12 at the end of the 1st quarter. Unfortunately, they came out sluggish and disorganized in the 2nd quarter and were outscored 21-6, turning the ball over at one end of the court and giving up numerous layups at the other end.
Once again however, the Lancers didn't give up and showed a lot of heart at the end, outscoring the Falcons 17-9 in the 4th quarter and hopefully setting the tone for a rematch this Friday at home at 6 p.m. Darren Hall was our Player Of The Game with 16 points and 10 rebounds. Wallace Keppel also played well, scoring 13 points and grabbing 9 rebounds.
Please come up and support our local high school hoopsters as they play Santa Ana Valley on Friday, December 16 at 6 p.m. and West Covina High at 1:30 p.m. on Saturday, Dec. 17.