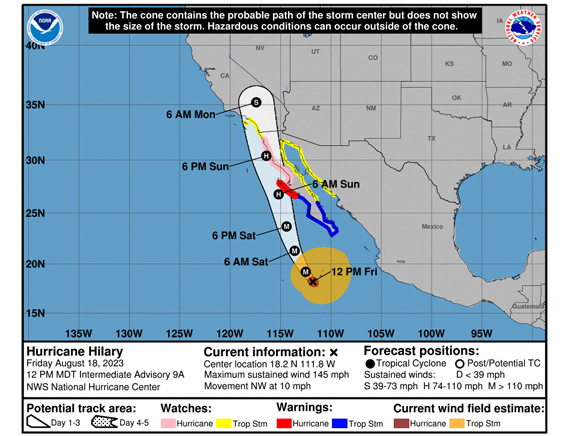 Courtesy of city of Avalon
The city of Avalon is preparing for significant storm and marine weather events due to Hurricane Hilary, now a major hurricane. Significant storm activity is expected to begin Sunday evening into Monday with a chance for tropical storm strength winds, heavy rainfall, dense patchy fog, large swells, and storm surges. If Hilary continues to follow the current track and remain sufficiently strong, it will create dangerous winds and sea conditions, rain, possible thunderstorms and a 20-30% chance for 34kt+ winds Sunday into Monday. South and southeast facing harbors including Avalon Harbor, will be exposed to large south swell, and will not be considered safe.
The city is asking Avalon residents, businesses, boaters, and visitors to prepare for significant storm events. Plan to avoid these conditions and seek or remain in safe harbor during this storm, and consider delaying any plans until fairer weather returns to the area. Mooring in unsafe locations and boating in these conditions may lead to loss of life and property. It is recommended to follow the National Weather Service for the most up to date forecasts and marine conditions at: www.weather.gov/losangeles.
Community members should plan accordingly for intermittent road closures of Pebbly Beach Road starting Sunday evening, and disrupted ferry service to the mainland. To view the latest ferry schedules, check www.catalinaexpress.com and www.catalinainfo.com. For local residents and businesses, Public Works have placed sand bags available to the community on South Beach.
Avalon Harbor, Fire, and Public Works are working together with LA County Fire, Baywatch, LA County Sheriff's Department, and community stakeholders to coordinate preparedness and response efforts. This includes preparing infrastructure both on land and in Avalon Harbor.
To receive xity emergency alerts, text "Avalon" to 38276. To view power outages and sign-up for utility alerts, go to: https://www.sce.com/outage-center. To view forecasted Hurricane Hilary activity go to https://www.nhc.noaa.gov.