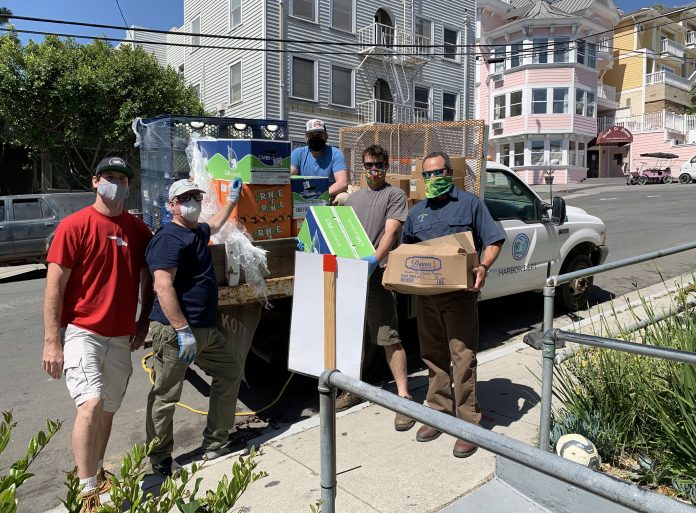 Tuna Club Foundation provides Lions with a generous donation
The Avalon Lions Club continues to provide Avalon with a program of services to help Catalina Island residents get through this pandemic. The National Lions Club motto is We Serve.
The Avalon residents who are making masks have done an outstanding job of supplying almost 500 masks to the Lions Club for distribution. Masks are still being made so if anyone needs more at a location in Avalon contact Lion Fletcher Canby at 310-809-0246.
The Avalon Tuna Club Foundation has provided the Avalon Lions Club with a generous donation of $3,000 to help fund the Avalon Lions Club prescription program. The Avalon Lions Club $50 Vons food gift cards are still available.
Catalina Express tickets and commuter books are also available from the Avalon Lions Club through the Catalina Island Medical Center. Catalina Island residents who need a prescription, a food card or Express tickets and cannot afford them may contact the Catalina Island Medical Center Social Services Department, Jeana Dominguez or Patty Mulago, at 310-510-0096. Each request for assistance is evaluated for need in compliance with established standards of benefits.
The Wednesday Food Pantry at the Teen Center is continuing to be a lifeline to many Avalon families in need. The Avalon Lions Club members support this program by unloading trucks and providing much needed funding. Each Wednesday about two hundred families receive food from this program. Contact Dan Huncke, Avalon City Community Services Director for more information at 310-510-0220.
All graduating Seniors from Avalon High School this year will receive a scholarship to the college or trade school of their choice. Applications for the annual Lions Club Scholarships are available by contacting Jim Watson at 310-809-1713.
Avalon School students who cannot afford home internet service may contact Patty Engel at 310-510-0790 for Avalon Lions Club assistance. The Avalon Lions Club medical alert program, food delivery and home mail delivery is available to qualified seniors or others who need the service by calling Burney ramming at 310-422-1406.
Donations to help the with COVID-19 expenses can be sent to, Avalon Lions Club, PO Box 305, Avalon, CA 90704. Thank you in advance. Take care of yourself and each other.
The 45 members of the Avalon Lions Club stand ready to serve our community when needed and where needed. Contact Avalon Lions Club President Burney Ramming for any help or information about the Avalon Lions Club Community Service Programs at 310-422-1406.