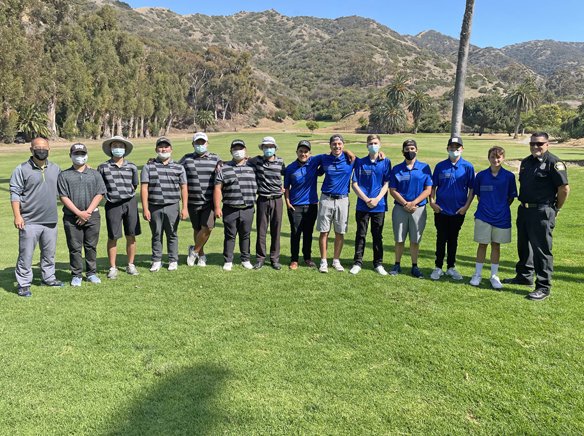 By Michael Alegria
The Avalon High School Varsity Boys Golf team started the season on Tuesday, April 27, at home against The Webb School which is in Claremont. Freshman Rigo Pedroza started off his high school career with a solid round of even par but unfortunately it was not enough as we lost as a team by 16 strokes. Seniors Stevie Hoefs and Brandon Tamayo along two other freshman Damien Pedroza and Diego Peguero were the others who played in the match.
We also have Junior Uriel Hernandez back as well as two newcomers who also are on the baseball team and play matches with us when they don't have a baseball game.
They are Corban Machado and Leo Rodriguez.
Our second match of the year was also at home against Samueli Academy from Santa Ana. Rigo and Damien had the two low rounds of the team, and although we did not play that well, we stull pulled off a victory by almost 30 strokes.
League Champion Anaheim Discovery came to town on May 6 and came ready to play. They have been a powerhouse in our league and have had many players move on to top ranked college schools and be very successful. Our guys gave it their best but we came away short. Rigo, Stevie and Damien had the top three low rounds for our team.
Saturday May 8 we had Fairmont Prep from the Anaheim area visit. Rigo shot another great round of even par and was followed by Brandon and Damien right behind him. We won the match by a total of 11 strokes.
On Monday May 10 we traveled to Huntington Beach to play a non-league match against Crean Lutheran. Crean Lutheran is a highly ranked team and is showed as three of them were under par in our 18 hole match. Top three low rounds for us were Rigo, Damien and Brandon.
On Wednesday May 12 we traveled out to San Dimas are to play against The Webb School. They brought their A game and had two players shoot under par and another one as even par. Rigo and Diego had the low rounds for our team.
This year due to Covid teams on the mainland were having a hard time getting tee times to play. We have nothing but good things to say about our home course, The Catalina Island Golf Course had been nothing but good to us.
They have continued to honor not charging the kids as the Island Company did in the past. Mac and Michael Brown have been great. They helped us out part of last year and this year. They have put a lot of time to make the course the way it is today. I also want to give kudos to the pro shop staff and the greens keepers.
One last shot out to Bucks For Bobby Foundation and Laura Machado and family. They generously donated 30 dozen new golf balls to the kids for our matches. Thank you again.
We have a home match on Wednesday and two away games on Thursday and Friday. Monday we have league individuals at Skylinks Golf Course in Lakewood and the top 12 move on to play Wednesday, May 26 at Meadowlark Golf Course in Huntington Beach.