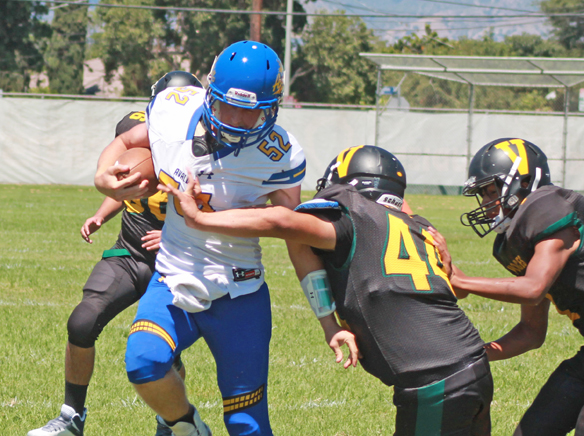 The Avalon High football team's opening week opponent could not keep pace with the Lancers, as Avalon rolled to a 66-0 win on Saturday in the season opener at Valley Oaks CES, in Sun Valley, California.
Lancer Head Coach Nick Morones said that despite the limited playing time for his first team, he was pleased with the execution on both sides of the ball. The Lancers were on the board early and often. After holding Valley Oaks to three plays and a punt attempt on the first possession, the Lancers needed just one play on offense.
After Valley Oaks misplayed the snap, the Lancer special teams sacked the punter to take over possession at the Vanguard 18 yard line. Issac Rivas took a handoff and ran 18 yards for the touchdown. With a two-point conversion, the Lancers led 8-0.
On the Vanguard's second possession, two incomplete passes quickly put them at third and 10 and Brandon Moreno intercepted the next pass and returned it 30 yards for another touchdown and an eventual 16-0 lead. The Lancer defense continued to stymie the Vanguards and setting up the offense with short fields.
Weston Jones ran for a 17-yard touchdown and then connected with Darren Hall for a 14-yard touchdown pass and a 32-0 lead. Despite the shortened playing time, Morones said there were other good signs the team is ready for a tough schedule.
"I know the other team had a lot of cramps and we came out perfectly fine, which shows how well the guys are conditioned," Morones said.
And the schedule immediately gets much tougher. The Lancers were scheduled to play the California School for the Deaf in Riverside on Thursday (past our deadline) in their home opener. CSD is the reigning Division 1 CIF-SS Champion and won the Tri County Premier League championship as well, going undefeated last year.
The Lancers were just 2-5 last year, but were awarded an at-large berth in the CIF-SS Division 2 playoffs. They proceeded to win three straight and reach the finals before finally losing and settling for the Runners-Up plaque. Avalon is looking to build on that momentum and make another playoff run. Perhaps the effectiveness of the second team players is a good sign.
"We did not take a step back once they were in … which is exciting," Morones said.
The Lancers next game will be Saturday, Sept. 9 at 3 p.m. at home against Windward High of Los Angeles.